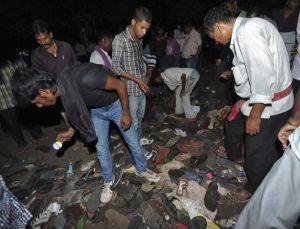 Bharatiya Janata Party on Monday demanded slapping of murder case against the transferred civil and police officers following the October 3 stampede that claimed 33 lives, while the Bihar government said the main opposition party was trying to politicising the incident.
"Mere transfer is no punishment for these officials whose negligence resulted in the death of 33 persons and injuries to 29 others. It is a clear cut case of murder, hence a case should be filed against them," senior BJP leader Sushil Kumar Modi said at a protest dharna.
Patna Divisional Commissioner N Vijaylaxmi, DIG, Patna Range Ajitabh Kumar, Patna District Magistrate Manish Kumar Verma and Senior Superintendent of Police Manu Maharaj were removed on Sunday, two days after the stampede.
Water Resources Department Minister Vijay Kumar Chaudhary, however, said the demand for slapping murder charge against the officials reflected duplicity of the BJP.
When in power, the BJP had not made such a demand two years ago when 18 devotees were killed in a stampede during Chhath festival at Adalat Ghat, Chaudhary said.
"Both the incidents are identical, but the BJP has conveniently changed its tack to suit its new role in opposition," the minister told PTI.
"By staging dharna and expression dissatisfaction with the transfer of four senior civil and police officials, the BJP is only bent on politicising the incident," he said.
Sushil Modi, who was deputy chief minister in the previous NDA government, attacked Chief Minister Jitan Ram Manjhi, saying, "The officials were found partying in a posh hotel, and the CM went to his native place in Gaya to celebrate Dusshera while people were dying in Patna."
Stating that the state government was saddened with the loss of lives in the stampede and shared the sorrow with the affected family members, Chaudhary said it has taken all measures, including transfer of top four Patna district officials and carried out rescue and relief works.
Modi, however, described as 'eyewash' the probe by Principal Secretary (home) Amir Subhani and Additional Director General of Police (headquarters) Gupteshwar Pandey ordered by the state government and instead demanded an inquiry by an all party team into the stampede.
Instead of dubbing the steps taken by the state government as 'eyewash', the minister said, the opposition should have hailed the transfer of four officials as their absence would expedite the probe process.
On Modi's demand for removal of the Home Secretary, he said it was Modi himself who had praised the Home Secretary for his dedication to work.