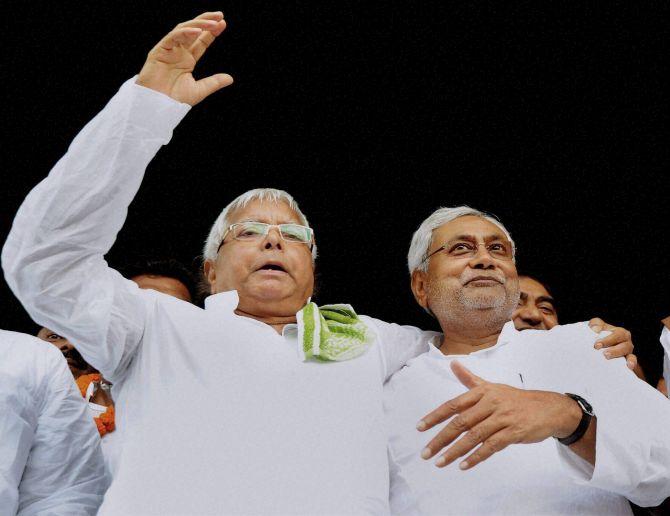 Nitish Kumar, who along with Rashtriya Janata Dal chief Lalu Prasad, steered the Grand Secular Alliance to a landslide mandate of over two-thirds majority in Bihar assembly poll, will be sworn in as Chief Minister on Novermber 20 for a third term along with his new cabinet.
Kumar, who was elected the leader of the Grand Alliance legislature party leader paving the way for his becoming the chief minister, told reporters outside Raj Bhawan after meeting Governor Ram Nath Kovind that he will take oath as chief minister on November 20 at 2pm at Gandhi Maidan in Patna.
Emerging from Raj Bhawan after about a 45 minute meeting, he said all the three parties of the alliance -- JD-U, RJD and Congress would be part of his new cabinet.
Nitish assured people of Bihar that 'rule of law' and development with justice will be his main agenda for the next five years.
"My committment for rule of law and development with justice will remain unchanged. I will not make any compromise on both fronts. There will be an inclusive development for all," he said.
Nitish said he will seek the support and cooperation of the Opposition instead of making fun of their defeat in the polls.
In reply to a question by media persons as to how many ministers would take oath with him on November 20, Kumar merely said the maximum limit for Bihar House was fixed at 36.
Asked if Prime Minister Narendra Modi and BJP veteran L K Advani would be invited to the oath-taking function, Kumar said these matters "would be decided in due course and the media would be informed."
Kumar spoke of his seven-point vision, including Rs 4 lakh loan for students, monthly allowance of Rs 1000 for eight months to youths as help to find jobs and free wifi facility in colleges and universities.
These, he said, would be the common agenda of the Grand Secular Alliance government.
Kumar had earlier taken oath as CM in 2005 and 2010 heading NDA government of JD(U) and BJP. But Kumar had been on CM's chair first for seven days from March 3 to March 10, 2000 and in the current term when he took over the reins from his nominee Jitan Ram Manjhi in February this year.
Kumar was earlier in the day elected the Allaince's legislature party leader at its meeting and he later met the Governor staking claim to form government.
Lalu Prasad, his JD(U) counterpart Sharad Yadav, Congress General Secretary C P Joshi, JD(U) General Secretary K C Tyagi and state presidents of JD(U), RJD and Congress Basistha Narayan Singh, Ramchandra Purve and Ashok Choudhary respectively accompanied Kumar to the meeting with the Governor.
Additional Inputs: PTI