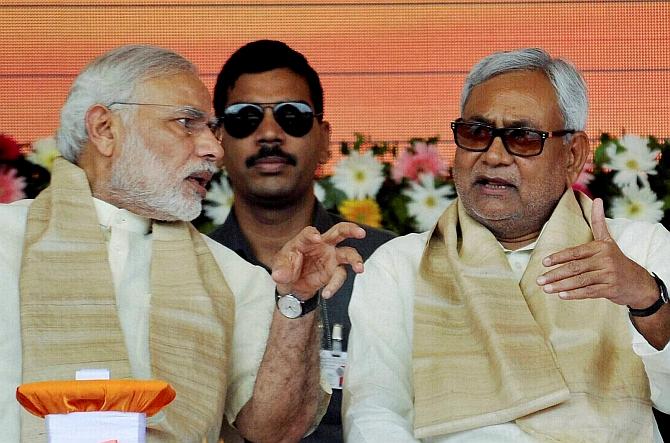 The stage is set for the August 30 rallies of Prime Minister Narendra Modi in Bihar's Bhagalpur district and Chief Minister Nitish Kumar and Rashtriya Janata Dal chief Lalu Prasad's joint rally in Patna.
Ahead of the upcoming Bihar assembly polls, the August 30 rallies are sure to be on everyone's radar.
"Usually political parties avoid such a clash since they tend to expose their weakness instead of revealing their strengths. But the Bharatiya Janata Party and the Janata Dal-United and the RJD have decided against that convention," a political observer said in Patna.
BJP spokesperson Vinany Narain Jha blamed the RJD-JD-U combine for the clashing dates. "The BJP had announced the Modi rally long before Lalu and Nitish Kumar announced the date of their joint appearance," Jha claimed.
Jha added that earlier reports indicated that Lalu and Nitish would address a joint rally in Patna on August 29. But on Wednesday, both leaders announced a joint rally on August 30 instead.
"We are not worried because Modi's rallies in Muzaffarpur and Gaya were very successful. Modi is the most popular leader in India and we are sure that his Bhagalpur rally will be a historic one as well," Jha said.
Bhagalpur is a communally sensitive district that witnessed riots in 1989.
Senior BJP leader and former Union minister Shahnawaz Hussain has been put in charge of Modi's rally.
Lalu said a 'swabhiman rally' on August 30 would prove that the RJD-JD-U combine is more popular than the BJP. This will be the first joint rally of Lalu-Nitish in Bihar.
"We will reply to Modi's comments on Bihar's DNA at our joint rally. Modi has insulted Bihar, and Biharis will have their vengeance," Lalu said.
Ahead of Bhagalpur, Modi will address a rally in Saharsa district which is in flood prone Kosi region in Bihar.
It was one of the five districts ravaged by Kosi flood tragedy in 2008.
According to BJP insiders in Patna, the party's was originally going to organise Modi's rally on August 19 but later changed the date to mark the anniversary of Kosi tragedy that had occurred on August 18.