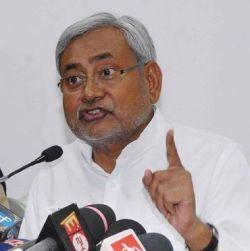 With Bihar minister Shahid Ali Khan under Sashashtra Seema Bal's scanner for suspected links with Indian Mujahideen activists, Chief Minister Nitish Kumar on Saturday questioned the central agency's handling of the matter, especially as to why he was not informed, and has directed a probe into it.
"What is the source of the information of the SSB which it has taken note of suo motu and sent the same to the Special Task Force in Bihar for verification?" Kumar told reporters on Saturday while replying to a query on the issue.
Bihar Police had on Friday said that it received a letter from the SSB last month seeking verification of charge about Khan allegedly having links with the two IM operatives Jameel Akhtar and Mansoor Sai.
The STF had asked the Motihari and Sitamarhi SPs to probe the matter and they had found the allegation as false, it said.
The information with the SSB about the minority welfare minister's alleged links with the IM operatives must be probed in view of seriousness of the matter, Kumar said.
The information should be processed thoroughly, the chief minister said.
Taking strong exception to the manner in which the SSB had sent the information to the STF in Bihar for verification of charge against his minister, he said that the matter should have been probed by higher agency in the first place and then he should have been informed about it as well as the presiding officer of the house of which the said person is a member.
The chief minister regretted that he came to know about the matter from a friend in the media that the SSB has sent an information to the STF asking for verification of the charge against the minister.
He said that he has directed the home secretary and the DGP to get the matter probed.
Kumar also came hard on the BJP for targeting the minority welfare minister, saying that it appeared that the BJP leaders were suffering from "mental illness".