Heavy rains in the last three days triggered flash floods in parts of Bihar, where 41 people have died so far, and inundated large areas in Assam and North Bengal, paralysing normal life and snapping rail link to the Northeast from the rest of the country.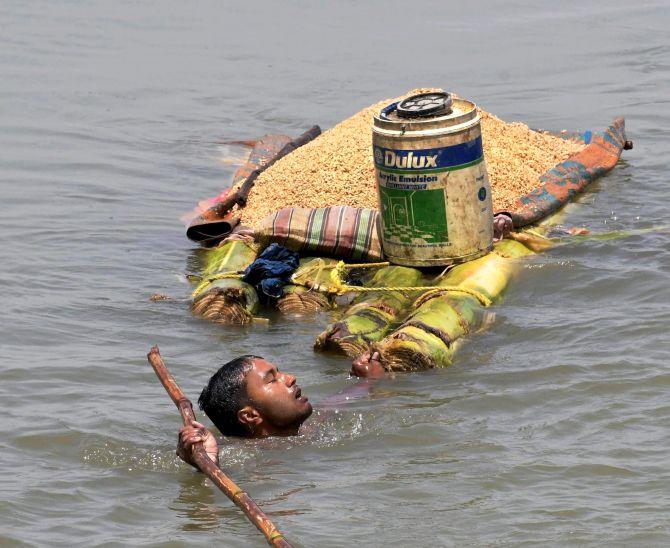 IMAGE: A villager carries grains on a banana raft as he shifts from a flooded village in Araria district of Bihar. Photograph: PTI Photo
In Arunachal Pradesh too, the flood situation continued to be grim in several districts with recurring landslides disrupting road traffic.
Bihar Chief Minister Nitish Kumar, who conducted an aerial survey of flood-hit areas, told reporters that Araria was the worst effected district and water has entered the district headquarters.
Flood waters have engulfed areas in Kisanganj, three blocks of Purnia and one block of Katihar damaging roads.
He said heavy rains in Nepal and Bihar in last three days have led to the situation and the state government is carrying out relief operations in flooded areas on a war-footing.
Forty-one people have died in floods in Bihar so far, said the Principal Secretary, disaster management department, Pratyay Amrit.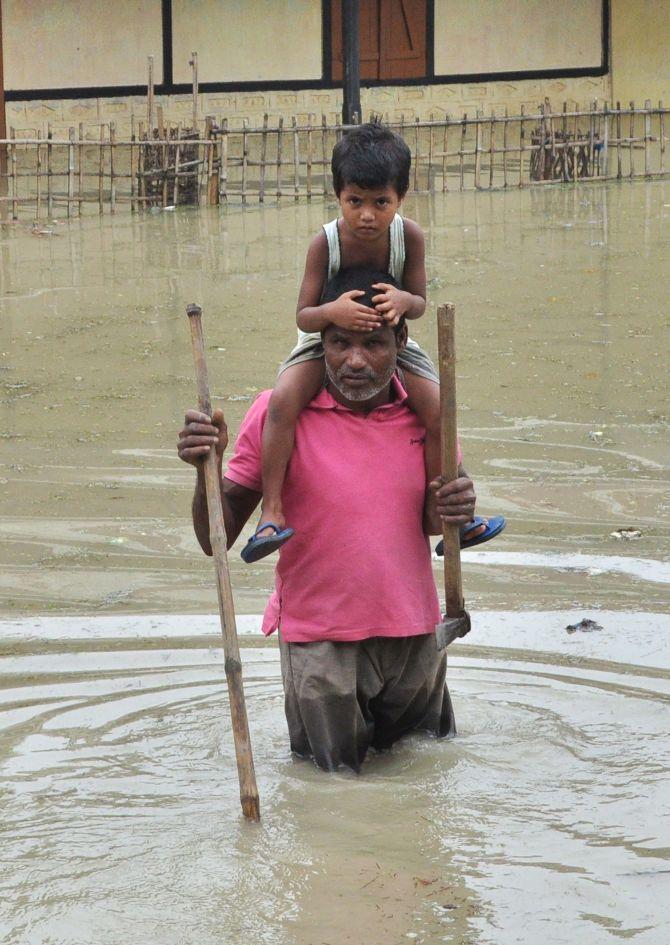 IMAGE: The heavy rain has led to to cancellation of all incoming trains from various parts of the country towards northeast region. Photograph: Rediff.com
While 20 people died in Araria, six in Sitamarhi, five in Kisanganj, three each in East Champaran, West Champaran and Darbhanga districts and one in Madhubani.
The State weather office forecast heavy to very heavy rainfall at one or two places in northern and southern parts of the state on Tuesday.
An estimated 65.37 lakh population of 12 districts are affected by flood, Amrit said.
The CM thanked the Centre for prompt response in providing assistance to the state after he telephoned Prime Minister Narendra Modi on Sunday.
Kumar said he also spoke to Union Home Minister Rajnath Singh and Defence minister Arun Jaitley on the flood situation.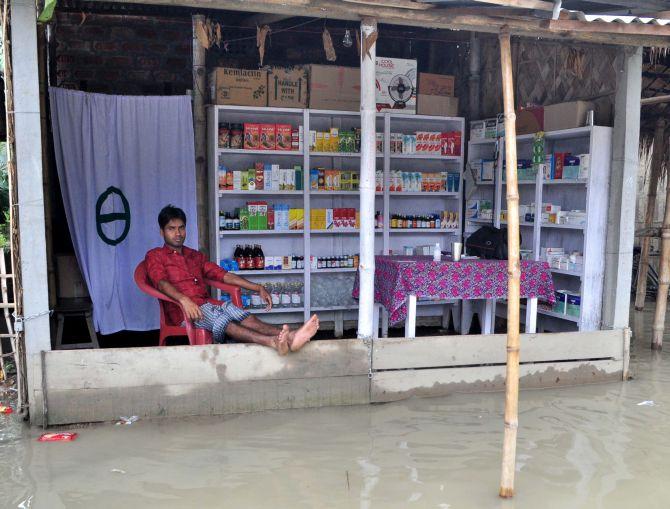 IMAGE: Assam has received heavy rainfall in the last 72 hours. Photograph: Rediff.com
The chief minister said that besides the army column (around 50 personnel) which was sent to Purnia, four teams of National Disaster Response Force had arrived in Bihar on Sunday and six more NDRF teams landed on Monday to assist the state.
The Railway Board has decided to cancel all incoming trains from various parts of the country towards northeast region, which were to reach either Katihar or Malda town till 10 am of August 16, 2017, North Eastern Frontier Railway Chief Public Relations Officer Pranav Jyoti Sharma said in a statement.
"Heavy rainfall in the last 72 hours in West Bengal, Bihar, Assam and other NE states had resulted in railway operations being severely hampered as rain water has inundated railway tracks at several places in Katihar and Alipurduar division of NF Railway," Sharma said.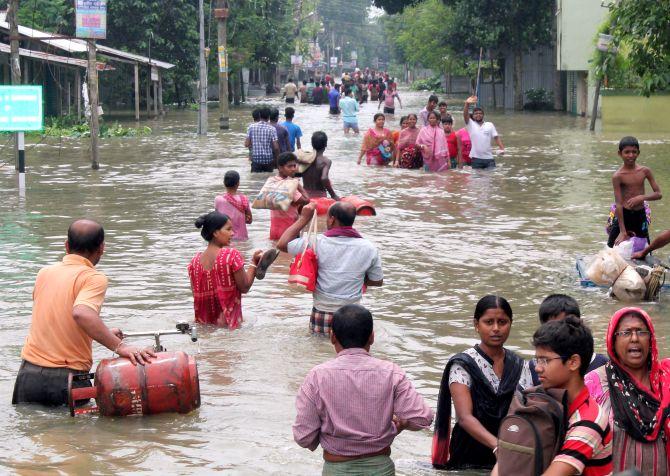 IMAGE: People wade through a flooded road, along with their belongings, after heavy rain at Balurghat in South Dinajpur district of West Bengal. Photograph: PTI Photo
In view of the prevailing condition, 11 outgoing trains have been cancelled by NF Railway, Sharma said adding four other trains have been short terminated at various locations, he added.
On Sunday, 22 trains were cancelled, while 14 others were stranded at various places as tracks were flooded.
"While many rivers in Alipurduar and Katihar divisions were in spate, NF Railway authorities have been keeping a close watch and continuously monitoring the situation of nearby railway bridges and tracks, taking all precautionary measures for safe running of the trains," he said.
The emergency control was being manned by senior officials at the headquarter and divisions, Sharma said adding train tracks were affected at as many as 12 locations initially, of which seven have been repaired and restored.
Sharma, however, said that train connectivity from New Jalpaiguri to Guwahati, Guwahati to Dibrugarh and Murkongselek continued to be normal.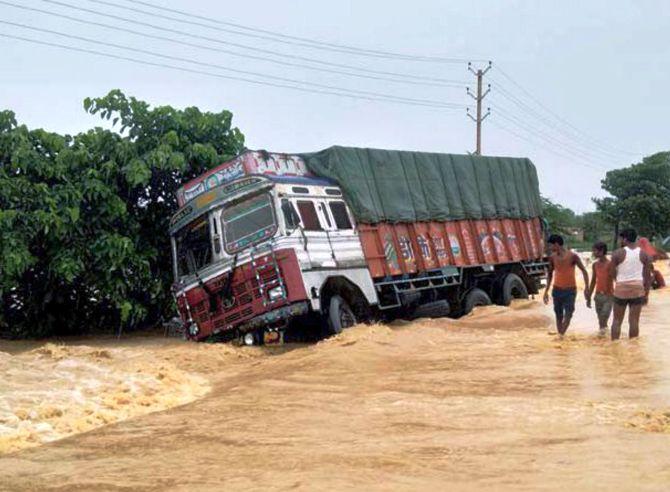 IMAGE: A truck gets washed away owing to the heavy rain in east Champaran, Bihar.
Photograph: PTI Photo
West Bengal Chief Minister Mamata Banerjee said, "We are concerned about the flood situation across the country. Earlier floods had affected south Bengal. Now north Bengal was also affected. We are monitoring the situation round-the-clock for relief and rescue operations".
State government sources said that Phulahar river had crossed its danger level, while 20 villages, mostly under Harischandrapur Block-II and Ratua block in Malda district were inundated.
Situation was similar at Bhutni Island, while erosion was was taking place at Pardeonapur village near Farakka also in Malda district.
Eastern Railway chief public relations officer R Mahapatra said that a number of trains originating in the state were cancelled as water is flowing above the railway tracks in North East Frontier Railway jurisdiction.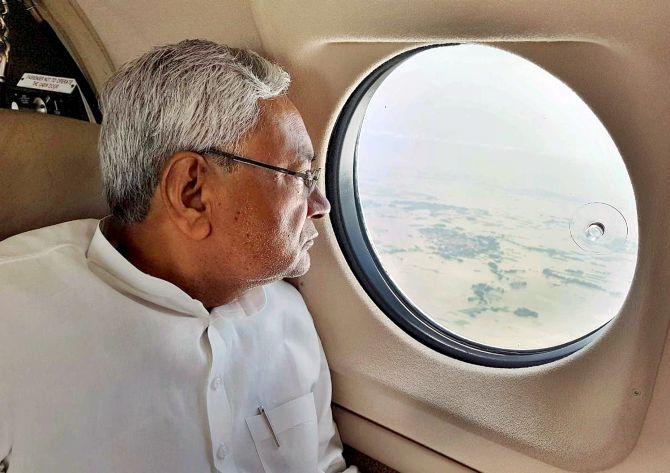 IMAGE: Bihar Chief Minister Nitish Kumar takes an aerial survey of the flood-hit areas.
Photograph: PTI Photo
The next announcement would be made only after the situation improved, he said.
East Central Railway said that rail traffic has been hit between Kisanganj and Hatwar due to flood water flowing above the danger mark at pillar number 117 under Katihar division.
An ECR statement released by Chief Public Relations Officer Rajesh Kumar said 33 trains have been cancelled and 11 short-terminated.
In Arunachal Pradesh, flood situation continued to be grim in several districts with reports of disruption of surface communication pouring in from various parts of the state.
Remote Anjaw district remained cut off from rest of the state for the past seven days as the main road to the district from Lohit are blocked in several places by landslides triggered by incessant rains, officials said.
Food shortage was looming large in Anjaw district following disruption in surface communication. Intra-district road communications were also badly affected due to landslides.
Though the Border Road Task Force has deployed men and machines to clear road blockades, recurring landslides were hampering restoration work, officials said.
Rhino habitats Kaziranga, Pabitora flooded again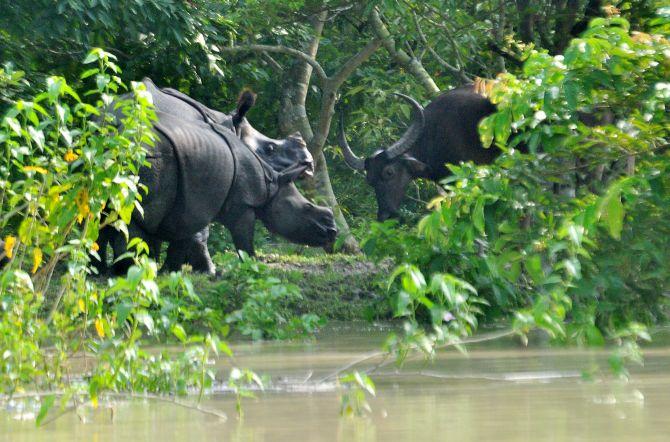 The second wave of floods in Assam have submerged rhino habitats KazirangaNational Park and Pobitora Wildlife Sanctuary forcing the animals there to take shelter on highlands.
KNP Divisional Forest Officer Rohini Ballav Saikia said over 85 per cent of the 430 sq km KNP, a UNESCO World Heritage site, is under water that came from Difloo river.
Saikia said that water was also rushing in as a portion of an embankment breached at Hatimura on the southern side of KNP.
Over 78,000 people of 57 nearby villages were also affected and two persons died there.
The Pobitora Wildlife Sanctuary in Morigaon district near Guwahati was also under water coming from the Brahmaputra river and the one horned rhinos and other wild animals were forced to take shelter on highlands outside, forest department officials said.
---
Recommended for you