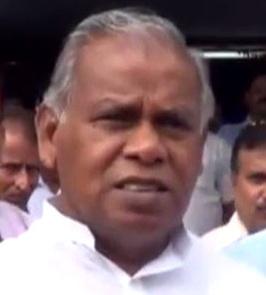 Bihar Chief Minister Jitan Ram Manjhi on Friday said he has sought appointment with Prime Minister Narendra Modi to demand special category status for Bihar.

"I have sought appointment with Modi to demand special category status for Bihar," Manjhi told mediapersons in his home district of Gaya during his visit to review the development schemes.

Manjhi said he has already directed the top officials of the state administration to prepare a charter of demands to be submitted to Modi. "Special category status will top the charter of demands under preparation. It is the first issue for us because it is directly related to development of the state," Manjhi said.

Manjhi also made it clear that Bihar would continue to fight for grant of special category status. "We will fight till we get it. Bihar will put pressure on the new central government," he said.
Manjhi recalled that he had raised the issue of special category status for Bihar when Modi had called him after he was sworn-in as the chief minister succeeding Nitish Kumar.

"If Modi has a little sympathy for the poor, backward and deprived sections of society, he will grant special category status to Bihar because the state chief minister is a Mahadalit," said Manjhi.
Carrying forward the agenda of former chief minister Nitish Kumar, Manjhi said if it was not fulfilled, a long agitation will be launched in the state.
Nitish Kumar had organised two mega-rallies at Patna and New Delhi in support of special category status for Bihar. He had given the call for a one-day 'Bihar Bandh' when the UPA government had announced the special category status and special package for Seemandhra in the wake of the division of the state of Andhra Pradesh.

Even Narendra Modi, during campaigning for the recently concluded Lok Sabha polls, had announced that if he came to power, he would provide 'special status', 'special package' and 'special attention' to Bihar and other northeastern states for their better development.