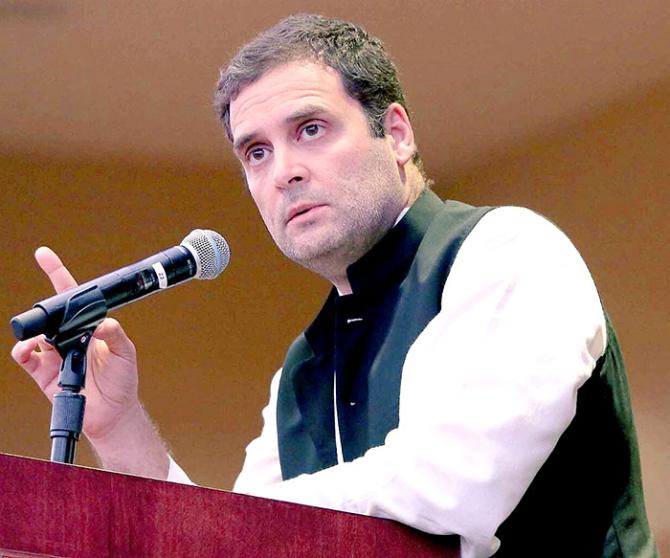 Acrimonious exchanges between the Congress and the Bharatiya Janata Party on the issue of data 'theft' escalated on Monday with the opposition party dubbing Prime Minister Narendra Modi the "Big Boss who likes to spy on Indians" and the ruling party hitting back, saying even "Chhota Bheem" knows it is not snooping.
Apart from the cartoon character, mythological characters from the epic 'Mahabharata' were also used by the two parties to take jibes at each other.
After allegations that data from the prime minister's official app was shared with foreign firms without the consent of users, Congress president Rahul Gandhi said the NaMo app secretly recorded audio, video and contacts.
"Modi's NaMo App secretly records audio, video, contacts of your friends and family and even tracks your location via GPS. He's the Big Boss who likes to spy on Indians.
"Now he wants data on our children. Thirteen lakh NCC cadets are being forced to download the app," Gandhi said on Twitter using the hashtag "DeleteNaMoApp".
He also alleged that Modi was misusing his position to build a personal database.
"This data belongs to India, not Modi," he said on Twitter.
Union minister Smriti Irani retorted that Gandhi now knows what the NCC is thanks to the NaMo App and that even "Chhota Bheem", a cartoon character, knows that commonly asked permission on apps do not "tantamount to snooping".
Congress communications in-charge Randeep Surjewala hit back, tweeting, "Ohh Ms Irani! But Kauravas wouldn't remember that Bheem represented the righteous Pandavas! Also, those who persecuted Rohith Vemula and denigrate Babasaheb 'Bhimrao's' legacy everyday can only set this level of discourse!"
The Congress alleged that this regime had become a "data leak" government that mocks and flouts the 'right to privacy' with brazen impunity and for it "IT means identity theft".
Charges flew thick and fast on the Twitter as the debate on the prickly issue escalated and the ruling BJP accused the opposition Congress of data "theft", saying it had taken off its app after the allegations came out in the open. The Congress, however, claimed it had not done so.
The site was "dysfunctional" and all memberships were done through the party's official website, the Congress said.
"Ye kya Rahul Gandhi ji it seems your team is doing the opposite of what you asked for. Instead of #DeleteNaMoApp, they have deleted the Congress app itself," Irani tweeted.
BJP spokesperson Sambit Patra dubbed Gandhi's allegations as a "classical case of technological illiteracy" never seen before in Indian politics.
Patra also claimed that the Congress president was rattled after his plan to influence the next Lok Sabha polls with Cambridge Analytica's help was "exposed".
Congress spokesperson Abhishek Singhvi questioned how safe was people's money and their personal information under the BJP-led government in the wake of a string of bank frauds and allegations related to data theft.
"It is an attempt like Bigg Boss of spying on Indians. Modiji is attacking the privacy. It is a data leak government," Singhvi told reporters.
He said that not only people's money, but people's privacy was also in question.
While Nirav Modis and Mehul Choksis dupe Indian banks of thousands of crores, data breaches in banks galore, he said and claimed that "neither our identity is safe, nor is our money secure!".
Singhvi alleged NaMo App records audio, video, contacts of your friends and family and even tracks location via GPS.
"No wonder, Modi ji is like the 'Big Boss' who with brazenness likes to spy on Indians. The BJP whose IT (Identity Theft?) Minister does daily press conferences on the issue of data security and democracy has much to answer to people of India on the unscrupulous means by which Narendra Modi's personal App is accessing data and passing on data of more than 50 lakh Indians," Singhvi said.
Patra alleged that it was the Congress app that was "stealing" people's data and as soon as the BJP exposed it, the opposition party took it down from the Google's play store, making it "Congress-mukt".
He claimed that the Congress was stealing data of 20 crore Indian Facebook users with the help of Cambridge Analytica, a data mining firm embroiled in charges of harvesting people's social media profile illegally, but was caught, leaving Gandhi rattled.
The private firm was allegedly using data theft, sleaze and honey trap to influence the 2019 Lok Sabha elections, he alleged.
"Because of his technological illiteracy he should not deceive the people of this country," Patra said.