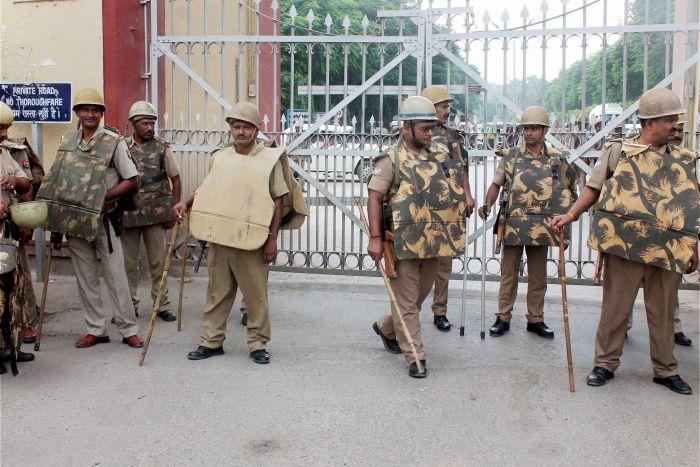 Uttar Pradesh Chief Minister Yogi Adityanath on Wednesday said the recent incidents in the Banaras Hindu University smacked of a "conspiracy" as prima facie reports suggest the role of anti-social elements.
A number of students, including women, and two journalists were injured in a baton-charge by the police in BHU where a protest on Saturday night against an alleged eve-teasing incident turned violent. An inquiry has been ordered into the violence on the campus.
The chief minister told reporters that those involved in spreading anarchy on the campus will not be spared at any cost.
"Prima facie investigation suggests it is a conspiracy by anti-social elements," he said.
The chief minister said the proctorial board of the university should have taken timely measures to ensure that the trouble did not escalate.
He suggested better communication between students and vice chancellors of central universities to prevent such incidents.
On alleged baton-charge on journalists, he said action will be taken immediately after getting the final report.
Hitting back at the Opposition, he said the law and order situation in the state has improved even though his political opponents were spreading canard against the government.
BHU chief proctor resigns after violent protests on campus
In the wake of the violent protests that erupted, chief proctor, Professor ON Singh, submitted his resignation late on Tuesday night.
He said he was "taking moral responsibility" of the recent incidents of molestation and violence inside the premises of the university.
Singh submitted his resignation letter to the Vice Chancellor, Girish Chandra Tripathi.
It is to be noted that ON Singh was considered to be one of the aides of the vice chancellor.
Earlier on Tuesday, the National Human Rights Commission issued a notice to the chief secretary, the director general of police Uttar Pradesh and the BHU vice-chancellor seeking a detailed report on the matter and submit his response within four weeks.
The NHRC, in its statement, said, "Suo motu cognisance taken in the subsequent use of unwarranted manhandling and thrashing of agitating students, mostly women, by UP police."
The development came a day after Uttar Pradesh Cabinet Minister Shrikant asserted that a judicial inquiry has been initiated to probe in the BHU violence case.
-- With inputs from ANI
Image: Police men deployed at Banaras Hindu University in view of the students protests. Photograph: PTI Photo