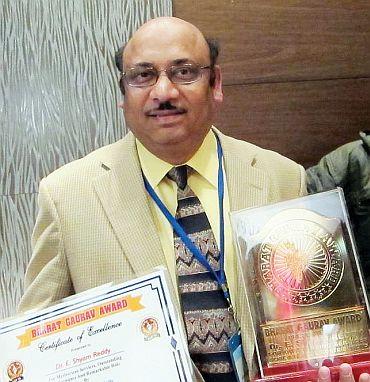 Distinguished cancer specialist Dr E Shyam P Reddy, professor and co director of the Morehouse School of Medicine in Atlanta, US, was honoured with the Bharat Gaurav Award at the India International Friendship Society's global friendship day held in New Delhi.

Past recipients of the award include Mother Teresa, cricketer Sunil Gavaskar, actors Dev Anand, Shammi Kapoor and Rajesh Khanna, among others.

The award was presented to Reddy by Pawan Kumar Bansal, India's minister of parliamentary affairs and water resources, and Dr Bhishma Narain Singh, former governor of Tamil Nadu.

Reddy has made many contributions to cancer research and discovered new genes in his long career.



He carried out his PhD research at the Centre for Cellular and Molecular Biology, Hyderabad, and Germany's Max Planck Institute for Biophysical Chemistry. It was published as two papers in the prestigious journal Nature, for which he was awarded the National Young Scientist award by the prime minister of India.

Later, Reddy did his postdoctoral training in molecular biology at Yale University.

Reddy and his group have recently discovered a post-translational mechanism that could have global effect on the gene expression, differentiation, protein turnover, cell death, cancer and other human diseases.