Bharat Biotech is targeting one billion doses in annual production. This is from its own sites alone, reports Sohini Das.
India's first indigenous Covid-19 vaccine to be approved, Bharat Biotech's Covaxin, developed in collaboration with the Indian Council of Medical Research, has barely contributed 11-12 per cent to the country's national immunisation programme against the coronavirus virus.
The bulk of the vaccines for the programme have come from its peer, Serum Institute of India, which is making a licensed version of Oxford-AstraZeneca vaccine Vaxzevria, which is known as Covishield in India.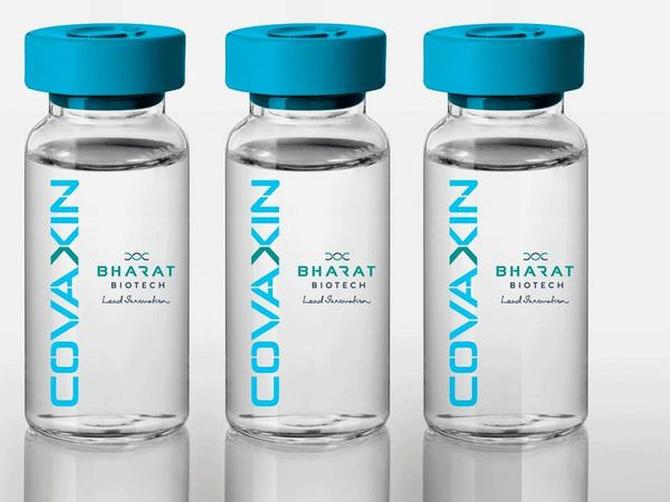 More than 720 million Covishield vaccines have been administered to Indians, while only 94.6 million Covaxin doses, or about 10 million a month, have been given so far, according to the government's vaccine-tracking site CoWin.
Now, however, the Hyderabad-based vaccine maker is shifting gears. In August, Bharat Biotech had supplied around 20 million doses of Covaxin. In September, the company aimed to supply 35 million doses, and take this up to 55 million by October.
This is still less than what the Indian government expects from the company. Union health minister Mansukh Mandaviya had said in August that they expected Covaxin supplies to improve from 25 million to 58 million doses a month.
But by December, sources indicate, the company is targeting 80-90 million doses per month. This exponential ramp-up is the result of an expansion of manufacturing capabilities.
Vaccine production started at Hyderabad, and eventually the Bengaluru plant was activated around mid-year. The Ankleshwar site in Gujarat started in August. Pune is yet to start commercial production.
"Bharat Biotech has already activated several of its Covaxin manufacturing sites -- four production lines in Hyderabad, two in Bengaluru, apart from Ankleshwar and now another one is expected to come up in Pune," said a source close to the development.
Bharat Biotech is targeting one billion doses in annual production. This is from its own sites alone.
Add to this the partner sites -- Indian Immunologicals, Mumbai-based Haffkine Institute, Bharat Immunologicals and Biologicals Corporation Ltd, Gujarat Biotechnology Research Centre and Hester Biosciences.
In April, the department of biotechnology announced that it has roped in Haffkine, IIL and BIBCOL to scale up the Covaxin manufacturing capacity ten-fold by September. The Centre had then said that financial grants (over Rs 130 crore) will help ramp up capacities from 10 million doses a month in April to 60-70 million a month by August and 100 million by September.
While the IIL has started supplying the Covaxin drug substance (or raw material) from mid-August, the others are yet to start manufacturing the drug substance or the vaccine in finished form. The IIL aims to produce the drug substance to make 10 million Covaxin doses by December. Haffkine could not be reached for a comment despite several attempts. Gujarat-based Hester Biosciences, an animal vaccine maker, however, is now building a green-field plant to make Covaxin.
"By January this new BSL-3 facility should be ready, and it would be able to make up to 7 million Covaxin doses a month," said a source close to developments.
Laboratories are categorised into four levels ranging from BSL-1 to BSL-4 depending on their abilities to handle dangerous and potentially lethal pathogens. So why was the Covaxin ramp-up so slow? Krishna Ella, chairman and managing director of Bharat Biotech, said in a recent interview to a television channel that trained, quality manpower is critical for technology transfer with partners.
For starters, this is an inactivated whole virus vaccine, and the technology platform takes time to manufacture, and the yield is less. Bharat Biotech promoters Krishna and Suchitra Ella have been stressing this point over the last few months, claiming how the process of inactivation not only takes time, but also significantly reduces the yield.
Had the vaccine been based on a different technology platform, the ramp-up of production would have been easier, the Ellas have maintained.
In May, Bharat Biotech had said the timeline for manufacturing, testing and release for a batch of Covaxin is approximately 120 days, depending on the technology framework and regulatory guidelines to be met. "There is a four-month lag time for Covaxin to translate into actual vaccination," Bharat Biotech had then said.
Compared with this, DNA or mRNA technology-based vaccines can be made relatively faster -- within 30 to 40 days.
T Jacob John, senior virologist and former head of the departments of clinical virology and microbiology at Christian Medical College, Vellore, said that ensuring quality takes time.
"All vaccines are complex to make. For an inactivated virus vaccine, one has to grow the virus, make sure it is pure, inactivate it, then make sure it is inactivated, then add the adjuvant (the substance that enhances the immune system's response), then again test for quality and safety, then give it to animal control or whatever the qu­ality control a company follows. That is how you have an identical vaccine as the previous batch. The maker also has to prove that the batches are identical," John explained.
Complexities of the manufacturing pro­cess apart, teething troubles in repurposing existing plants has also been an issue. N K Arora, chief of national immunisation technical advisory group, had told a news agency in August that some hiccups like initial difficulties in the new Bengaluru plant of Bharat Biotech had delayed the production of Covaxin.
Arora had said, "The test batches of that plant weren't satisfactory and got rejected, which led to delay in ramping up production, but now the batches have been approved by the competent authority and will be available for public consumption."
With those issues largely sorted out now, an accelerated supply of Covaxin will, hopefully, speed up the national immunisation programme, too.