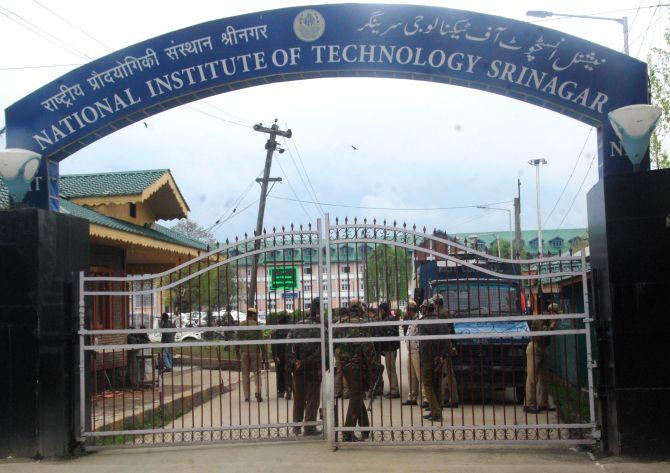 Bhagat Singh Kranti Sena chief and two associates were detained by the J&K police from entering the NIT to show solidarity with the striking students. Mukhtar Ahmed/ Rediff.com reports from Srinagar.
Bhagat Singh Kranti Sena's head Tajinder Pal Singh Bagga and two of his associates were detained by Jammu and Kashmir police while trying to enter National Institute of Technology at Hazratbal in Srinagar to unfurl the tricolour and show solidarity with the striking outstation students.
Bagga and two of his associates had managed to reach the main entrance to the NIT at Hazratbal in a private vehicle but were detained by the police before they could enter the NIT.
Bagga had left Delhi on Saturday last leading over 150 students in two buses and cars to 'to unfurl the tri-colour and show solidarity with the NIT students who were baton charged by the local police last week'.
However, they were stopped by the police at Lakhanpur and were not allowed to enter the state. Most of the youth comprising students had returned to New Delhi.
Meanwhile hundreds of non-local students left Srinagar for their homes in past 24 hours after they refused to write their exams.
The non-local students who outnumber the locals in the NIT are on strike for the past ten days and had been pressing their demands which include shifting of the NIT, postponement of their exams and action against cops involved in the baton charge on them.
State deputy chief minister Dr Nirmal Singh has made it clear to the striking students that the demand to shift NIT was 'beyond consideration and cannot be accepted under any circumstances'.
Sources, however, said some non-local students appeared in the exam.
The trouble at the NIT erupted on the night of March 31 when India lost the crucial semi-final to West Indies in the World Cup T20.
Two groups of students started shouting slogans in support of the two teams.