Amid reports of souring ties, President Pranab Mukherjee visited Beijing for three days last week. On his return to India, hopes of better ties have arisen, says senior correspondent R Rajagopalan, who travelled with the President to the Asian superpower.
IMAGE: President Pranab Mukherjee and Chinese President Xi Jinping attend a welcoming ceremony at the Great Hall of the People in Beijing, China. Photograph: Kim Kyung-Hoon/Reuters
President Pranab Mukherjee's visit to China from May 24-27 eclipsed the symbolism that is most often associated with presidential visits.
Insiders within the President's Estate and the Prime Minister's Office confided that both the President and prime minister, though they hold different views -- given their background before they rose to the current positions -- the two have been able to find amicable solutions to vexing issues such as India's entry into the Nuclear Suppliers Group and the boundary dispute.
A politician who was part of Pranab Mukherjee's delegation to China, said, "In every handling there is bound to be a contradiction. But surviving with opposite views is democracy. Issues which are pertinent cannot be resolved overnight. It takes years and decades to get nearer to solutions."
Being part of the media delegation, it was interesting to note that at the banquet hosted by Chinese President Xi Jinping in honour of the Indian President at the Great Hall of the People, Jinping was a quiet listener.
When I asked President Mukherjee on the return journey about the visit, a very emotional Pranab replied, "Jinping listened to me. He has a deep understanding of each subject; he's very knowledgeable and has a versatile personality."
Such interactions are bound to bring about a calming effect to the Indo-Sino ties when Prime Minister Narendra Modi takes up the same issues in the future.
The stage was set for these talks by National Security Advisor Ajit Doval and Foreign Secretary Jaishankar, said a security expert who was a member of the delegation.
The Chinese leadership attached much significance to Pranab's three-day visit, especially Mukherjee and Jinping's one-hour talk wherein issues were discussed at length, including topics such as economy, terrorism, education and people to people contact.
Chinese diplomats, who were privy to the talks, are now ready to discuss future strategies with India. In fact, Pranab's visit to Beijing has brought about a soothing effect to the souring ties.
Manoj Joshi, a defence analyst, is of the opinion that the government used Pranab's visit to convey to Beijing that despite the recent hiccups in the ties relating to the Uighur visas, the Masood Azhar controversy, and the NSG contretemps, India attaches great importance to its relations with China and seeks a cooperative and mutually beneficial relationship at all times.
Siddharth Varadarajan, a foreign affairs expert, says India sought China's cooperation at the United Nations in the fight against cross-border terrorism and called on Beijing to play a positive role in ensuring a "predictable environment" for India's pursuit of nuclear energy -- code word for India's entry into the Nuclear Suppliers Group, the rule-setting cartel of nuclear exporters whose norms the Indian side is committed to implementing without having a say in their formulation.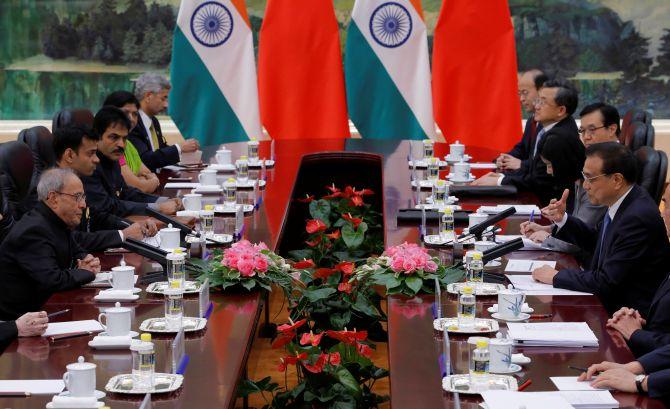 IMAGE: President Pranab Mukherjee meets with China's Premier Li Keqiang during their meeting at the Great Hall of the People in Beijing. Photograph: Kim Kyung-Hoon/Reuters
In fact, President Pranab Mukherjee raised these two hot-button issues in his talks with President Jinping on May 26, his last formal dialogue in a four-day visit to China that took him to Guangzhou and Beijing, but did so in a manner that Indian officials said was intended to be constructive rather than confrontationist.

K P Nayar, a senior diplomatic analyst, commented that by recalling India's role in the transition from General Agreement on Tariffs and Trade to World Trade Organization, Mukherjee subtly reminded the Chinese that they owe India some repayment. Jawaharlal Nehru had campaigned unceasingly for China's admission to the United Nations by replacing Taiwan, but Nehru never used it as an 'IOU' with Beijing.

Mukherjee's willingness -- with Modi's blessings, no doubt -- to remind the Chinese about India's effort to get Beijing into the WTO has a big element of pragmatism to policy at a time when diplomacy is increasingly transactional.

Given the expectations, the presidential programme in China went through smoothly.

The President's visit started with Guangzhou, capital of Guangdong province which has played a key role in China's economic development, accounting for around 10 per cent of China's GDP.

Guangzhou was chosen as a destination because of its historical connection with India as well as its important role in economic as well as people-to-people exchanges with India.

During President Pranab Mukherjee's stay in Guangzhou, he had a meeting with Hu Chunhua, secretary of the provincial committee of the Chinese Communist Party of Guangdong, Zhu Xiaodan, governor of the Guangdong province, and Jiang Zengwei, chairman of China Council for Promotion of International Trade.

The Chinese leaders conveyed their strong interest in promoting business and people to people ties with India, especially the state of Gujarat with which they have a sister-province relationship. They enquired about various development initiatives launched by India and conveyed their willingness to play a leadership role in enhancing trade and investment ties.

President Mukerhjee also addressed a large assembly of the Indian community who had gathered from different parts of China and Hong Kong. He urged them to serve as unofficial ambassadors of India and to do their utmost to strengthen our Closer Development Partnership programme as well as promote people to people understanding.
President Mukherjee was received with great warmth and friendship by President of the People's Republic of China, Xi Jinping; Premier of the State Council Li Keqiang, and Zhang Dejiang, Chairman of the National People's Congress in Beijing.
In addition to the banquet in the Great Hall, President Mukherjee delivered a keynote address at the historic and prestigious Peking University and attended a round table between vice chancellors and heads of institutions of higher learning of the two countries. This was the first such interaction organised in this format between the two countries in the important area of academic exchanges.
Ten memorandums of understanding providing for enhanced faculty and student exchanges as well as collaboration in research and innovation were concluded between the higher education institutions of the two countries.

When it comes to interactions with the Chinese leadership, it was multi-faceted and comprehensive and was conducted in a warm, friendly and cordial as well as candid manner. Discussions were wide-ranging and covered various areas of mutual interest.
The Chinese leaders fondly remembered their recent visits to India and conveyed their conviction that this state visit would provide a new impetus to the development of bilateral relations.
There was deep appreciation of the role played by high-level visits in enhancing mutual understanding and political trust.

During the numerous talks, it emerged that there was convergence of views that India and China as two major powers must have greater strategic communication and work together in an uncertain global situation where economic recovery was fragile, geo-political risks were growing and the menace of terrorism proving to be a threat to the whole world.

President Mukherjee conveyed that India and China should join hands not just in the interests of the people of the two countries but also for the good of the whole world.
On discussions on trade, India welcomed greater Chinese investment especially in flagship programmes such as 'Make in India', 'Digital India', 'Skill India', and 'Smart Cities'.
Terrorism was another important topic with President Mukherjee conveying to Chinese leaders that there is universal concern over growing acts of terrorism.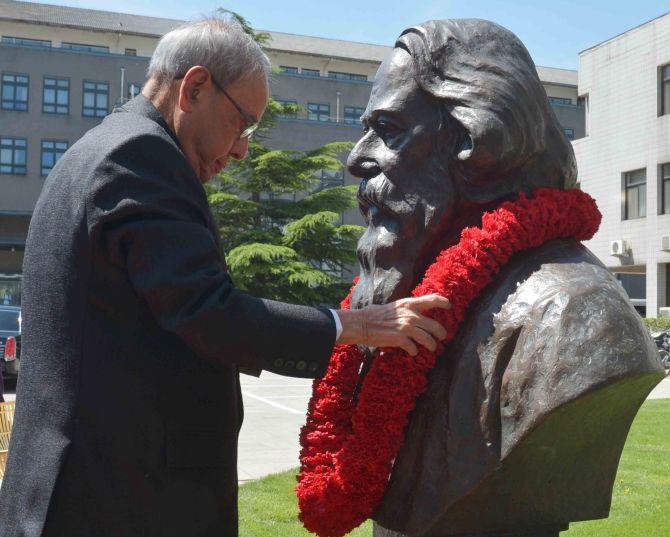 IMAGE: President Mukherjee garlanding the bust of Gurudev Rabindranath Tagore, at Peking University, in Beijing, China. Photograph: Press Information Bureau

While speaking at the banquet, President Mukherjee had said, "India has been a victim of terrorism for around three and a half decades. There is no good terrorist or bad terrorist. Terrorism respects neither ideology nor geographical boundaries. Wanton destruction is its only aim."

He added that comprehensive cooperation by all countries of the world is essential to tackle the global menace. The international community must engage in strong and effective action. As close neighbours, India and China should work together, he said.

The Chinese leadership agreed that terrorism was a menace to the entire human race and conveyed their willingness to enhance cooperation, including in the United Nations.

They also conveyed their resolve to seek a fair, reasonable and mutually acceptable resolution of the boundary question at an early date.

President Mukherjee agreed with the Chinese leadership that while the two countries continue to engage in seeking an early resolution of the boundary question, they must improve border management and ensure that peace and tranquillity are maintained in border areas.

Noting that China is as keen as India to take bilateral relations forward, President Mukherjee returned to India with the conviction that "we must jointly impart new momentum to this defining partnership of the 21st century."
Now it is a waiting game to see if the dialogue is taken further at the G20 Summit in Hangzhou in September and the BRICS summit in Goa in October.