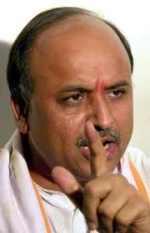 Hours after Vishwa Hindu Parsi said it had arranged to telecast live it's leader Praveen Togadia's speech through video-conferencing at the 'Hindu Virat Samavesha' in Bengaluru on Sunday, police issued an order, prohibiting organisers from displaying and transmitting his speech through any form of media for two days.
City Police Commissioner M N Reddi said that in exercise of powers vested in him under Section 144(3) of CrPC, he was imposing an order, prohibiting Keshav Hegde, VHP organising secretary and other organisers of the 'Samavesha' from displaying and transmitting any speech of Togadia through audio, visual and any other media at the venue for two days, from 6 pm on February 7 to 6 pm on February 9.
He said Intelligence officials had informed him of VHP's plans to make arrangements for live telecast of Togadia's speech through video-conferencing.
They had also stated that if this was allowed, it would frustrate the very object of issuing the prohibitory order against Togadia, Reddi said.
It would also endanger peace and tranquility in the city, and as such "speeches are likely to provoke certain sections of society and hurt the religious sentiments of certain sections of society."
"There is every possibility that peace and order will be disturbed if this display or exhibition of audio or visual speech of Togadia is allowed at the venue," Reddi said.
Earlier, VHP's Karnataka Public Relations Officer Manjunath Swamy had said all arrangements had been made to telecast the speech live through video-conferencing and maintained that stopping Togadia's address through this means would not amount to an offence.
Justice Abdul Nazir had on Friday turned down the interim prayer by Karnataka VHP Organising Secretary Keshav Hegde to stay the police commissioner's order, banning Togadia's entry into the city from February 5 to 11.