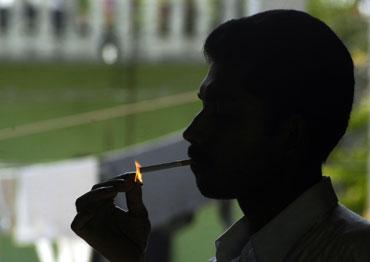 A controversy broke out over remarks by 'beedi' baron and parliamentary committee member from the Bharatiya Janata Party Shyam Charan Gupta suggesting "nil" effect of smoking, evoking sharp reaction from opposition parties which sought his removal from the panel.
"I can produce a lot of people in front of you who are chain smokers of beedi and till date they have had no disease, no cancer... You get diabetes due to eating sugar, rice, potatoes. Why don't you write warnings for all these things as well," said Gupta, a Lok Sabha MP from Allahabad.
His remarks were criticised by opposition parties including Congress, Samajwadi Party and Communist Party of India-Marxist which alleged that there was a "conflict of interest" as Gupta was in tobacco trade and also a member of Parliamentary Committee of Subordinate Legislation looking into the rules regarding tobacco sale in the country.
Terming Gupta's inclusion as a member in the committee as "grossly unethical", Congress spokesperson Sanjay Jha said, "...Here you have an elected MP, who sits on a panel and clearly does not make disclosures. If he is running a Rs 250 crore worth of business (beedi)... The conflict of interest is culpable."
Jha further said, "You do not have to be a genius or a Sherlock Holmes to find out that what is the vested interest that he is definitely trying to pursue at the legislative level. This is the kind of risk that as a country we are getting to exposed on account of a very unethical Parliamentarian."
Significantly, Gupta remarks came barely days after the panel head Dilip Gandhi's statement that there was no Indian study to confirm that tobacco use leads to cancer, leaving the government embarrassed and rival parties and the medical fraternity gunning for him.
Gupta, a member of the same panel, had reportedly told the committee that beedis have "nil" harmful effect and had also suggested that the government should make a distinction between smoked and chewed tobacco as he believes that the former was not as harmful.
Defending Gupta, Gandhi said he was not the only one in the tobacco trade.
SP leader Gaurav Bhatia said, "It is completely unacceptable and shocking. An MP is in a committee where he has his own vested interest. It is a clear cut case of conflict of interest."
He said there was a need to look at what recommendations that he had made on tobacco issue and whether these were accepted by the committee.
"Speaker should step in and ensure that there should be a new parliamentary committee on it and if any recommendations have been accepted earlier, they should be immediately scrapped," he said.
Arguing that his being in the panel sets a "very wrong example", the SP leader said, "Here we have a tobacco baron, himself being an MP and being in the committee."
CPI-M leader Mohammad Salim said that parliamentary procedures demand that such persons should be kept out of these committees and if anybody has any conflict of interest, he or she should declare it.
"Gupta should have opted out or the speaker should have kept him out," he said.