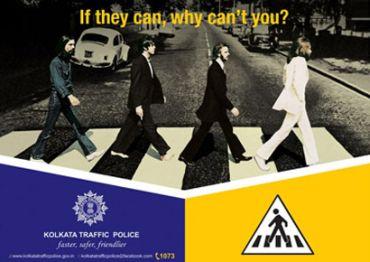 Beatles, the evergreen all time favourite rock band from Britain's Liverpool, has come to the help of Kolkata Traffic Police in its efforts to instill road safety awareness among the youth.
The traffic police is making use of the Abbey Road album cover featuring the 'Fab Four' John Lennon, Paul McCartney, George Harrison and Ringo Starr walking on a zebra crossing in a north London street to inculcate the habit of using pedestrian crossings among the youth.
The shoot for the cover of the album was staged on August 8, 1969, while the Beatles were putting the finishing touches to it at the nearby EMI studios.
With Beatles' founder John Lennon dressed in an immaculate white suit leading the band over a zebra crossing, the advertisement asks pedestrians, "If they can, why can't you?"
As part of its road safety awareness campaign beginning Tuesday, more than a hundred such hoardings and posters will hit the city streets.
Anuj Roy, officer in-charge (planning and survey traffic) of the traffic police, told PTI that the idea was thought up to attract the attention of the youth who often failed to use the zebra crossing which not only endangered their safety, but also slowed down traffic.
"Our campaign is to spread awareness on the importance of road safety by following traffic rules and regulations," the police officer said.
Various studies, conducted over the years by the WHO, have revealed that in most developing countries, especially in India, pedestrians are most vulnerable to road accidents, accounting for almost half of the recorded fatalities every year.