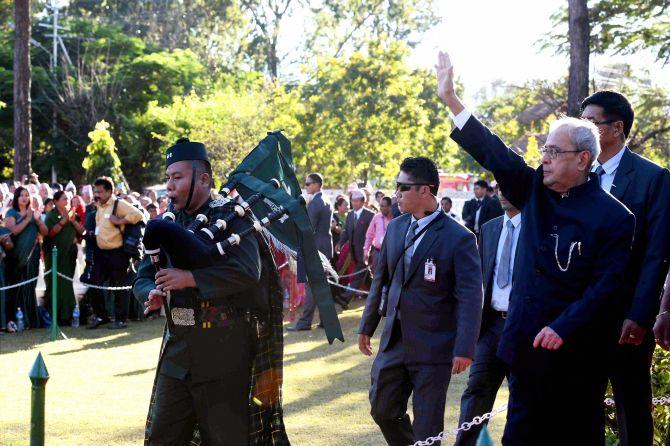 The basic pension of ex-servicemen of the Indian Army has increased by 2.57 times as compared to pension of December 31, 2015, President Pranab Mukherjee on Friday said in Pokhara, Nepal while addressing ex-servicemen of the Gurkha regiments in the Indian Army.
Mukherjee, who is also the supreme commander of the armed forces, lauded the valour and discipline of the Gurkha soldiers in guarding the borders of India.
Mukherjee, who is on a three-day state visit to Nepal, visited the Pension Office for Gurkha ex-servicemen in Pokhara in the last segment as large number of these soldiers live here after retirement.
The scenic Pokhara Valley, nestled in the shadow of towering snowcapped peaks of Dhaulgiri, Machapuchare, and Annapurna is home to a large number of soldiers of the famed Gurkha regiments in the Indian Army.
The President received a warm welcome here with people dressed in traditional clothes carrying flags of India and Nepal had lined up the roads from airport to hotel where he stayed briefly and then from hotel to pension office of the Gurkha regiments ex-servicemen.
People stood there throughout the stay of the President who was in the city for nearly an hour playing drums, dancing and waving as his convoy passed through the streets of Pokhara city.
"According to the Seventh Pay Commission, the basic pension has increased 2.57 times under the One Rank One Pension scheme as compared to basic pension on December 31, 2015," Mukherjee said.
He said being the supreme commander of the Indian defence forces, it was a matter of great satisfaction and pride that all the welfare schemes of ex-servicemen are being implemented in Nepal on time.
The President said there are 32,000 Gurkha soldiers in Indian Army besides 1.26 lakh ex-servicemen from the community. Mukherjee said India will never hesitate to take all possible steps for the welfare of ex-servicemen.
"Every year about Nepalese Rs (NPR) 3,100 crore of pensions is being distributed in Nepal. In the current financial year, the target is to distribute about NPR 4,000 crore of pension as per One Rank One Pension and Seventh Pay Commission," he said.
IMAGE: President Pranab Mukherjee visits Janaki Temple at Janakpur, Nepal on Friday. Photograph: PTI Photo