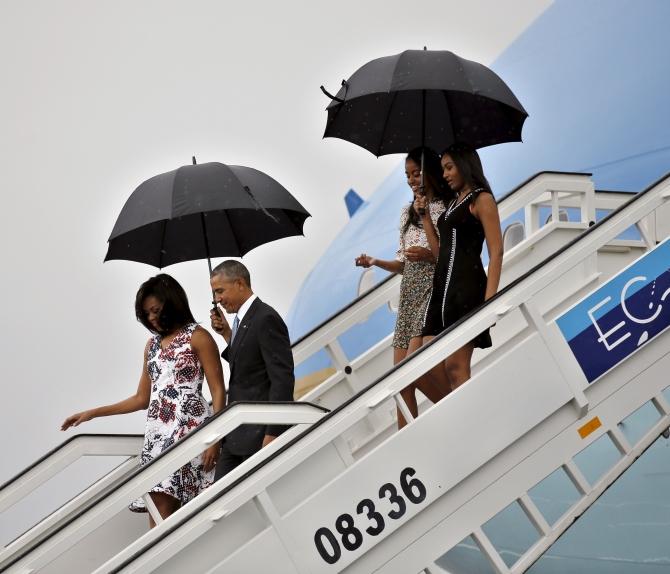 IMAGE: US President Barack Obama, his wife Michelle, and their daughters Malia and Sasha, exit Air Force One as they arrive at Havana's international airport for a three-day trip, in Havana. All photographs: Carlos Barria/Reuters
United States President Barack Obama arrived in Cuba on Sunday, demonstrating his foreign policy principle of engaging America's foes and in a hope that the Communist government there will grant more freedom to its people and open new economic pathways for American businesses.
According to CNN, just before Obama stepped from Air Force One, he sent a message to Cubans through Twitter.
" Que bola', Cuba? (What's up Cuba?) Just touched down here, looking forward to meeting and hearing directly from the Cuban people." He tweeted.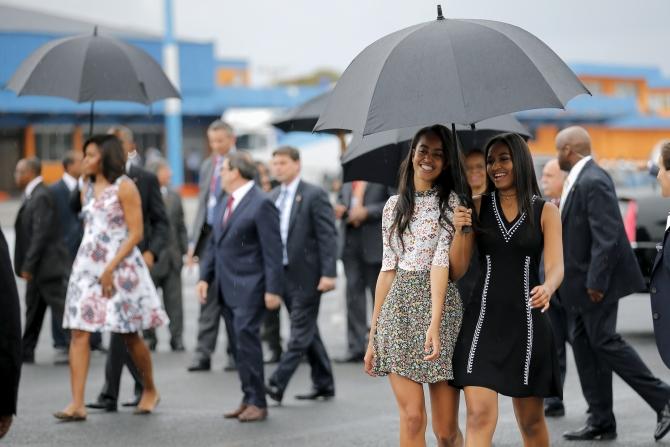 IMAGE: Obama's daughters Malia (centre) and Sasha (right) arrive with their parents at the Jose Marti international airport in Havana.
Later in the day, Obama toured the Cathedral of the Virgin Mary of the Immaculate Conception, greeting Cardinal Jaime Ortega.
Later in the evening, Obama dined at a "paladar" -- one of hundreds of privately-run restaurants that only recently became permissible in the state-run economy.
Obama landing at Havana's JoseMartiAirport represented a diplomatic metamorphosis which seemed almost unimaginable almost five years ago.
"My view is that this is the beginning, not the end, of what is going to be a journey that takes some time," Obama told CNN in an interview ahead of the trip.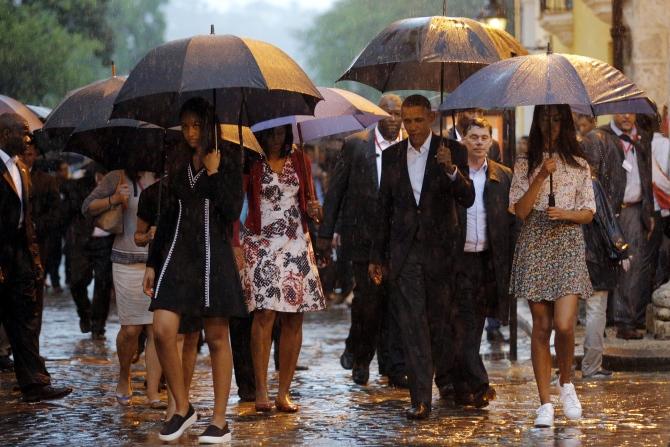 IMAGE: Obama tours Old Havana with his family at the start of a three-day visit to Cuba, in Havana.
"This is a matter of us engaging directly with the Cuban people and being able to have candid, tough conversations directly with the Cuban government. We will have more influence and have greater capacity to advocate on behalf of the values that we care about when we're actually talking to them." Obama said.
According to CNN the presidential trip to Havana is the culmination of a three-year effort to restore ties to the island, which sits 90 miles from Key West, Florida, but has long been off-limits for most American visitors. For decades, the island was regarded as a Cold War adversary, a forbidden place run by bearded strongmen that residents fled on makeshift rafts.