A Bangladeshi-Canadian was on Saturday identified as the mastermind of Bangladesh's worst terror attack at a cafe in Dhaka's high-security diplomatic zone that killed 22 people mostly foreigners, police said following new information from a raid on a militant hideout.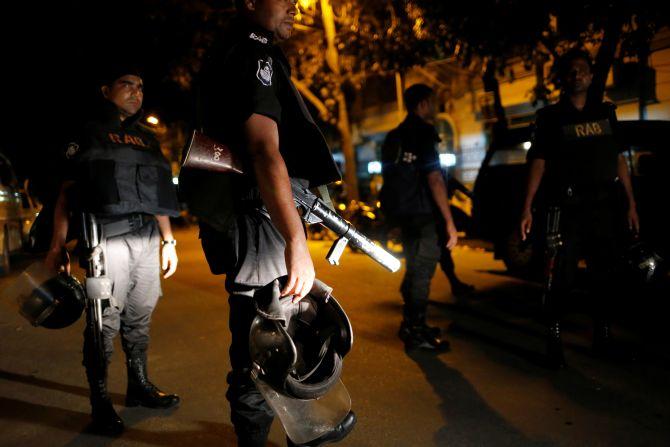 An overnight security raid at Kalyanpur area in Dhaka four days ago provided police the clue to identify Tamim Chowdhury as the architect of the recent Islamist assaults, a police officer familiar with the investigations told PTI on anonymity.
"We found Tamim Chowdhury to be the mastermind of the two (back-to-back terrorist) attacks... a manhunt was launched to track him down as we think, he now lives in Bangladesh since his return (from Canada) three years ago," he said.
The officer added that evidence gathered from the scene of the July 26 raid at Kalyanpur, in which nine militants were killed, led police to identify Chowdhury, believed to be in his mid 30s, as the mastermind of the July 1 attack on the Holey Artisan restaurant and the assault on an Eid congregation at northern Sholakia six days later.
A Bangladeshi newspaper earlier reported that Chowdhury appeared as the leader and main financer of a reorganised Jamaatul Mujahideen Bangladesh. Bangladesh earlier attributed the two attacks to the clandestine outfit.
The report suggested that Chowdhury was working as the link between the reorganised JMB and the Islamic State, which claimed the responsibility for the July 1 attack when the terrorists killed 22 people, among them 17 foreigners including an Indian and two police officers.
The attack on the Eid prayers left two policemen and a woman dead while the officials said a total of seven terrorists were gunned down immediately after the assaults.
Police's counter-terrorism unit's chief Monirul Islam had said investigators got names of several suspected masterminds behind the two "interlinked attacks" but efforts were underway to confirm their true identities.
Bangladesh earlier said they found no proof of Islamic State link to the country's terrorist attacks.
Image: Security personnel keep watch, after gunmen stormed the Holey Artisan restaurant and took hostages, in the Gulshan area of Dhaka, Bangladesh July 2, 2016. Photogrpah: Mohammad Ponir Hossain/Reuters