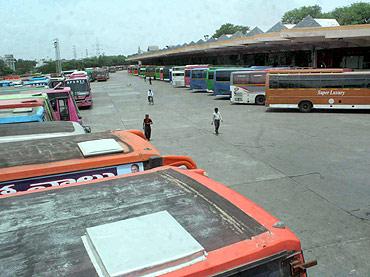 Normal life remained paralysed for the second consecutive day in the 13 districts of the coastal Andhra and Rayalaseema regions of the state following the bandh call by Andhra Pradesh Non-Gazetted Officers and YSR Congress against the tabling of the Telangana bill in Lok Sabha.
The bandh was marked by protest rallies and demonstrations and resulted in closure of businesses and educational institutions besides hitting the operations of Andhra Pradesh State Road Transport Corporation buses at Visakhapatnam, Krishna, East Godavari, Guntur, Kadapa, Kurnool, Anantapur and Chittoor districts. Also affected were cities like Tirupati and Vijayawada although, according to police, the situation has remained peaceful so far.
At many places, protesters held dharnas outside bus depots, forcing the vehicles to remain confined within.

Supporters of the united Andhra Pradesh cause have taken to the streets across Seemandhra to register their protest against the Centre's proposal to bifurcate Andhra Pradesh. The demonstrations were marked by slogans against United Progressive Alliance chairperson Sonia Gandhi and the burning of tyres.
YSR Congress workers, meanwhile, took out bike rallies in Anantapur and raised slogans in support of a united Andhra Pradesh.

"The situation is peaceful (although) shops and businesses are closed... Rallies are being held in Anantapur, Chittoor and Tirupati. APSRTC buses are off the roads and schools and colleges are shut," said Deputy Inspector General (Anantapur Range) B Balakrishna.
A report from Vijayawada said that some protesters allegedly threw brooms at the convoy of Union Minister of State for Finance JD Seelam at Hanuman Junction in Krishna district while he was on his way to Eluru from Gannavaram airport.
When protesters who had gathered on the national highway to block the traffic saw Seelam passing through, they asked him to alight from his vehicle to participate in their stir.
But with the minister refusing to yield to the demand, the agitators tried to obstruct his way while some of them even allegedly hurled brooms at his car.
Seelam's convoy could move only after police arrived on the scene to disperse the agitators, who were being led by Telugu Desam Party Farmers' Association district chief, Ch Anjaneyulu.
The bandh's impact on its second day has been more widespread than on Day 1 with the TDP and YSR Congress supporters staging sit-ins at many places, sources said.
Beginning in the morning, agitators under APNGOs association held stirs at bus stations in Krishna district and in Vijayawada. "We are operating only a few services in view of the situation," a traffic official said.
In Vijayawada city, shops and other establishments remained closed in light of the bandh. Public transport services were conspicuous by their near absence from roads.
Andhra Pradesh School Education Minister K Pardhasaradhi and stamps and registrations minister T Narasimham have cancelled all official programmes in the city to avoid the ire of the united Andhra agitators.
A report from Rajahmundry said that all educational institutions, shops, commercial and financial establishments remained closed for the second day today in East Godavari district in view of the bandh.