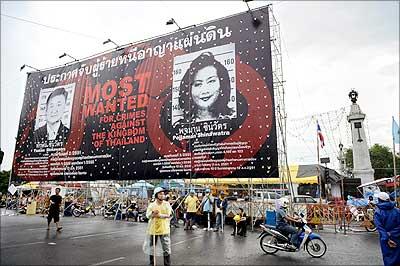 It is BAN-KOK now.
Emergency was clamped in Thailand's capital after political clashes between protesters demanding the resignation of Prime Minister Samak Sundaravej and his supporters. At least one person died in the clashes.
Countries like Singapore and 
South Korea have already advised thier citizens not to visit Thailand, sources said. 
Image: Protestors in front of a billboard displaying portraits of former prime minister Thaksin Shinawatra and his wife Pojamarn Shinawatra in Bangkok on Monday.
Photograph: AFP/Getty Images