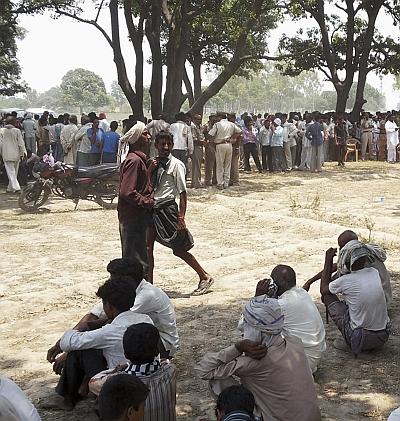 The family members of the two teenage girls, who were allegedly gangraped and murdered here, on Monday staged a sit-in along with hundreds of villagers to protest against the remarks of Uttar Pradesh Director General of Police A L Banerjee and 'delay' in the Central Bureau of Investigation probe in the case.
They sat on the dharna around 3.30 pm under the same tree, on which the bodies of the teenage girls were found hanging, to demand start of the inquiry by CBI in the case. Accusing the police of threatening them, father of one of the victims said, "We want the matter to be probed by CBI so that reality comes to light. The CBI probe has not started yet even after we requested for it."
Banerjee had on Saturday said rape of one of the two girls, who were found hanging from a tree, was not confirmed by forensic experts and that property could be a motive for their murder. "Of the two victims, one was a lone child. Her father has three brothers who have limited resources. In case she is not alive, then it can benefit others. It (property) can be one of the motives. I am not saying that this is the motive," he had said in Lucknow.
Refuting the DGP's claim that property could be a motive behind the crime, the father of one of the victims said that he had three and a half bighas land and which was not transferable to his daughter. "The land did not belong to my daughter. If she would have been alive and I would have got her married, the property still would not go to her or her in-laws. The land belongs to my brothers and me, and they have a right on it after me," he claimed.
He also asked if the case was one of honour killing, then why was his niece killed? "Will you also level rape charges on us?" the irate father of the victim asked. The father of the other victim alleged that the DGP is threatening the family and had asked them to go through lie detector tests, which he said they are fully prepared for.
Alleging that the state Government and police are hand in glove, he said the government is trying to shield the police. The mother of one of the victims said if the family had killed the girls why would they demand CBI probe into it. "We knew from the very beginning that the Akhilesh Yadav government would do anything to save the accused of that caste... There is continued pressure and we are being threatened," the victim's mother alleged.
Image: The site where two girls were hanged from a tree at Badaun district of Uttar Pradesh.