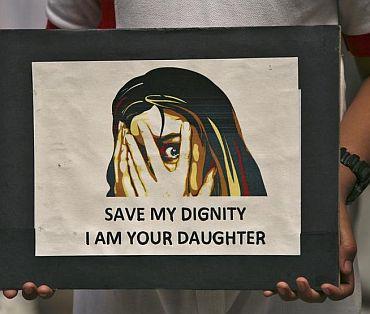 The Central Bureau of Investigation on Thursday registered a case to probe the alleged gangrape and killing of two teenaged cousins in Uttar Pradesh's Badaun nearly two weeks ago.
A CBI spokesperson on Thursday said that an FIR has been lodged to probe the case and a team of 20 officials headed by a Deputy Inspector General will leave for Uttar Pradesh on Friday. "The team will also comprise forensic experts. The state government has been requested to provide logistical support to the CBI team," said CBI spokesperson Kanchan Prasad.
The Department of Personnel and Training had on Wednesday night issued the notification, the mandatory requirement for CBI to take up a probe in a state-specific matter.
The two girls, cousins aged 14 and 15 years, were allegedly gang-raped and murdered and their bodies were found hanging from a tree a day after they went missing on May 27 in a village in the Ushait area in Badaun.
UP police had registered a case against seven accused, of whom five -- three brothers, Pappu, Awadhesh and Urvesh Yadav, and constables Chhatrapal Yadav and Sarvesh Yadav -- have been arrested.
The incident triggered nationwide outrage and the Akhilesh Yadav government has drawn flak over the law and order situation in his state with political parties and civil society activists calling for a CBI probe into the matter.
Congress vice president Rahul Gandhi, Union Minister Ram Vilas Paswan and former Uttar Pradesh Chief Minister Mayawati have also visited the homes of the two victims to express their sympathy for the bereaved families.
The case has even drawn criticism from United Nations Secretary General Ban Ki-Moon who said, "We have seen despicable attacks against women and girls around the world. I was especially appalled by the brutal rape and gruesome murder of two teenaged women in India who had ventured out because they did not have access to a toilet."