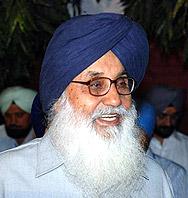 Punjab Chief Minister Parkash Singh Badal on Tuesday dismissed talks of formation of a Third Front as a, 'figment of imagination'. "The proposed formation of a Third Front at the national level is nothing, but a figment of imagination. Due to the instability of the central government, (there is) fresh gossip every day, which hardly has anything concrete in it," the CM said while talking to reporters on the sidelines of a programme in Badal.
The picture will become clear once the process for the Lok Sabha elections sets in motion, Badal said adding that his party was fully prepared to contest the general elections any time.
Reiterating that Shiromani Akali Dal's alliance with the Bharatiya Janata Party is firm, Badal said that being an important ally of the National Democratic Alliance, his party is fully committed in supporting efforts 'to wipe out Congress from the national political scene'.
Lashing out at the Centre for its 'discriminatory policies' towards Punjab, the Chief Minister alleged, "due to ill-conceived policies of the Centre, farmers of the state are reeling under a whopping debt of Rs 32,000 crore."
Responding to a query over the ruckus created by Congress members of Legislative Alliance during the budget session of the Punjab Assembly, Badal emphasised on the need for building consensus with a view to maintaining the decorum of the house.
"It is unfortunate that the Congress leadership in the state has not paid any heed to the smooth running...of the assembly. "Congress leaders misused their position by helping an unauthorised person enter the Assembly premises...(and) instead of apologising for their mistake, they created a ruckus...undermining democratic norms and ethics of the house", Badal said.
The CM was talking about the Tarn Taran police assault victim, who tried to force her way inside the Punjab assembly accompanied by Sunil Jakhar and other Congress leaders.
Referring to a recent incident when papers were thrown at the chair of the house, Badal added, "Congress leaders should uphold the honour and dignity of the House, rather than indulging in such derogatory acts."