While in Kashmir just about a week ago, I couldn't help but feel that the Congress was about to have a chief minister in J&K after a gap of 30 years since Mir Qasim made way for Sheikh Mohammed Abdullah.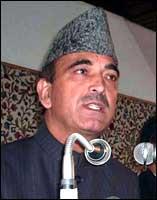 And who could doubt that 56-year old Ghulam Nabi Azad would fit the bill?
Mufti Mohammed Sayeed, buoyed up by his partnership with the Congress, had come in at an unusual time in Kashmir's life and done a decent job for three years, winning deserved compliments for his sense of balance.
But it was hard to shrug away the feeling that Prime Minister Manmohan Singh had made Azad the point-person for the post-quake relief operations in the state, and this couldn't be without a reason.
Azad camped in Srinagar and delivered with characteristic briskness and efficiency. He played the activist's role without being interventionist. He took care not to tread on the toes of either the coalition partner or the state bureaucracy though both seemed to have been slow-footed in rising to the challenge of attending to the urgent task of rushing relief in an admittedly difficult terrain.
Azad is a senior member of the Union council of ministers and trusted by the prime minister as well as the Congress chief Sonia Gandhi.
Besides, he is a member of the inner group of Congress leadership that meets with Sonia and Manmohan in deliberations every Friday to discuss strategic matters—both political and policy-related.
Such a position has come to 'Ghulam Nabi', as Azad is known in Delhi, on account of his long innings at the Centre, mostly as a minister.
He served in the Rajiv Gandhi and P V Narasimha Rao cabinets. He first came to Delhi as president of Indian Youth Congress about 25 years ago.
In these days of coalition politics, Azad's portfolio of parliamentary affairs is one that requires managing of contradictions with the United Progressive Alliance partners and the difficult Left allies, besides coping with the Opposition on getting government business transacted in the House.
But he has been parliamentary affairs minister before, and has also presided over the ministry of tourism and civil aviation at the Centre.
Azad is currently a Rajya Sabha member from J&K, his home state. He has in the past won a Lok Sabha seat from Maharashtra and was also been nominated to the Upper House of Parliament from that state.
Though the Congress leader has for long been associated with political decisions concerning his state, he has until not long ago been viewed as an outsider in J&K. Basically, he had stayed away from nose-to-the-ground politics of the state.
These credentials were certainly no good for one aspiring to be chief minister. A good deal of this changed when, during his term as the state Congress chief, his party won 21 states in the assembly three years ago and, to everyone's surprise, six of these were from the Valley which everyone thought the Congress had long lost to regional forces.
Indeed, the Congress tally in the assembly was greater than partner PDP's. If the Congress high command had not taken the considered decision to let PDP's leader Mufti Sayeed have the first shot at the chief minister's position under an agreement because his party had won more Valley seats, Azad may have been in the reckoning for the job three years ago.
But it is not clear how much he might have enjoyed the stint at the time. Politically, he had not been tested enough in Kashmir's turbulent environment.
Today it is a far more assured Azad who would be taking charge, given his hands-on experience as the state Congress chief, his day-to-day dealings with state affairs for the past three years as a leading player in the coordination committee with the PDP and other allies. His direct handling of relief operations after the earthquake too is a decided bonus.
Traditionally, since 1947, the leader of the J&K government has always been from the Valley that Pakistan has coveted.
That was a reason all these years for choosing a Kashmiri 'proper'.
Azad is from the Doda district of the state's Jammu region, from the far-flung village of Soti, which, geographically, is not far from Himachal Pradesh.
While this gives Jammu its first-ever chief minister, ironically Azad, being from Doda, has been frequently cited as a reason why many regard him as an outsider.
It is a sign of change toward normality of the political temperature in the state that a leader from the Jammu areas is being accepted as head of government.
Azad happens to be a native Kashmiri speaker. He comes from a family that, like many others a few generations ago, had been obliged to transfer from south Kashmir to Jammu's Doda district that abuts the Valley.
He went to university in Srinagar. Incidentally, his wife Shamima, also from Srinagar, is a noted Kashmiri singer.
Where Azad's political fortunes go from here is a subject for the future, but his appointment marks a 'two-in-one' phenomenon since he is a Kashmiri-speaking Muslim from the Jammu region and can be at home in both zones which have traditionally been at loggerheads on the question of internal autonomy in the state.
Recently a Kashmir University professor, himself a true blue Kashmiri, said to me, "It is true that Mufti has helped bring about a change of idiom in the state. But if the Congress takes charge directly, the developmental coordination with the Centre might be smoother. Besides, friction with Jammu might be eased if Congress chooses a CM from Jammu, which should be the obvious thing to do."
The Congress now has its wishes fulfilled. So does Azad. But even this seasoned campaigner will know he is wearing a crown of thorns, for J&K has never been the easiest of places to administer.
There is the Pakistan angle and terrorism from across the frontier to consider, there are the utterly spoilt separatist elements who think no end of themselves, and of course there are the people who bear a scar and are hungry for both democracy and development.
Besides, there are the massive expectations from Jammu and the forgotten Ladakh region of J&K, the most extensive in territory terms of all the three regions of the state, though hardly populated.
Azad will need to come up with a strong showing on all counts-- political skill in running what might be an unsteady coalition in time, man-management in handling his own party and associated MLAs, and cool determination in tackling corruption that is gnawing at Kashmir's vitals. Will he have the sang-froid?
Also read: More news from J&K