'Where is the spirit of Team India?' asks Chandrababu Naidu.
Sanjeeb Mukherjee reports.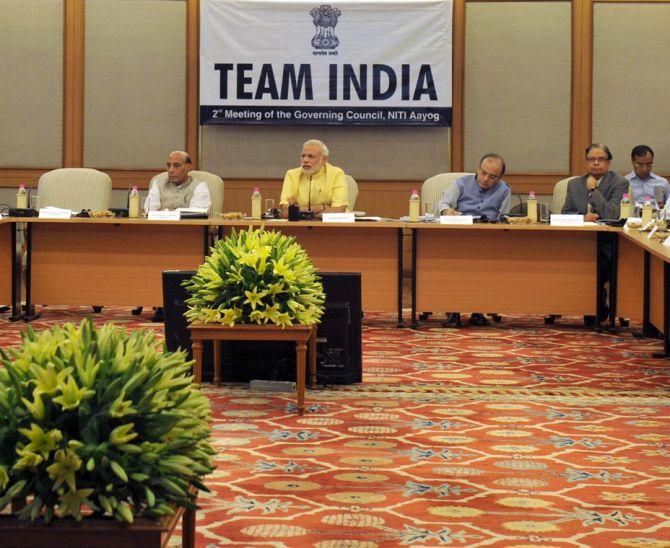 Prime Minister Narendra D Modi's pet scheme 'Ayushman Bharat' and plan to double farmer income by 2022 are expected to figure prominently at the NITI Aayog's fourth governing council meeting scheduled for Sunday, July 17.
The Union government's nutrition mission, 'POSHAN' and the NITI Aayog Strategy Paper for New India 2020-2022 are also expected to be taken up by the Centre and the states.
Chief ministers of all states, heads of Union territories along with Cabinet ministers of major ministries are part of the NITI Aayog governing council that is chaired by Prime Minister Modi.
Senior officials from the Centre and prime minister's office will also participate in the meeting.
According to an official statement, other flagship issues like Mission Indradhanush, development of aspirational districts and celebration of Mahatma Gandhi's 150th birth anniversary will also figure during the day-long deliberations.
The fourth governing council meeting will be pivotal as it may be the last such meeting before the crucial election to state assemblies later this year.
Officials said agriculture and related issues will figure prominently in the discussion with the Centre keen to review progress of schemes like Fasal Bima Yojana, Krishi Sinchai and also its ambitious programme to create a grid for vegetables.
This is to ensure steady supplies under 'Operation Top' announced in Budget 2018-19.
West Bengal Chief Minister Mamata Banerjee, who had earlier declined to be present due to Eid, has confirmed her presence after the meeting was rescheduled for Sunday.
In a statement issued on Friday, former National Democratic Alliance ally and Andhra Pradesh Chief Minister Nara Chandrababu Naidu said he will raise the issue of the Centre's 'failure' over non-fulfillment of assurances made in the Rajya Sabha. These include special category status for Andhra.
'The agenda for this meeting is very brief, unlike the previous ones. Topics like Swachh Bharat, Skill India, and Digital India, which were discussed in the last meeting, have not been included in the agenda this time,' Naidu said.
He said he will highlight the issues being faced by farmers, traders and daily labourers due to the prevailing cash crunch at ATMs.
Also on the agenda will be issues like insecurity among scheduled castes, scheduled tribes and minorities; lack of employment for youth; problems in crop insurance scheme, minimum support prices for farmers and doubling of farmer income
'Despite the Centre's non-cooperation, our state was able to grow at the rate of 10.5% during the last four years only because of the consistent efforts of the people and the government. Isn't it the Centre's responsibility to handhold AP until it becomes on par with neighbouring states in terms of per capita income?' Naidu asked.
'Where is the spirit of Team India?'