On Thursday, the Supreme Court declined to set up a larger bench for a relook of its 1994 verdict which held a "mosque is not an essential part of the practice of Islam", paving the way for the apex court to hear the politically sensitive main Ayodhya title suit from October 29.
Ruling that the earlier observation was made in the limited context of "land acquisition" during the hearing of the Ayodhya case, the top court in a 2-1 verdict made it clear it was not relevant for deciding the Ram Janmabhoomi-Babri Masjid title dispute.
Here are some of the reactions.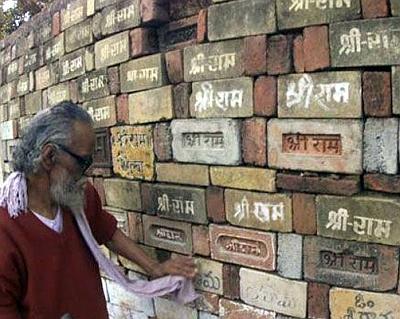 We welcome this decision and are confident that a just verdict will be reached over the case at the earliest.
Rashtriya Swayamsevak Sangh
The majority of this nation wants a solution to this at the earliest. We appeal that this matter is resolved as soon as possible.
Yogi Adityanath, chief minister, Uttar Pradesh
During the hearing on the tittle suit in the Supreme court, the other side always quoted the 1994 judgement that mosque is not an integral part of Islam. Now the court has made it clear that the 1994 judgement was related to the land acquisition and that it has no connection with the tittle suit. We have achieved our goal as the Supreme Court will hear only the tittle suit.
Khaliq Ahmad Khan, litigant, Maulana Mahfuzur Rahman
We honour the court order and see some positive movement regarding the Ayodhya case.
Zafaryab Jilani, member, All India Muslim Personal Law Board
We respect the court verdict. Two positive things have come from this verdict. First, the Ayodhya matter will not be heard on the basis of faith and will be heard as a title suit. Second, the 1994 observation by court will not make an impact on the case. We hope that the final hearing of Ayodhya will be completed soon. The Ayodhya hearing should not be linked with the elections.
Khalid Rashid Farangi Mahali, member, All India Muslim Personal Law Board
The Supreme Court has made it clear that the case will be heard on merits, on the base of the claims of land ownership... and not on religious beliefs as the high court has done. We were fighting the case for Babri land on the basis of revenue records. Our claim is that there are no historical facts that any temple was demolished and Babri Masjid was built there.
Iqbaal Ansari, litigant, Sunni Central Waqf Board
Like in the case of triple talaq in which India and the world is congratulating the court and the judges for liberating 8.5 crore Muslim women from the clutches of injustice, they will solve this problem and create history in 2018 like they did with triple talaq in 2017.
Indresh Kumar, RSS leader