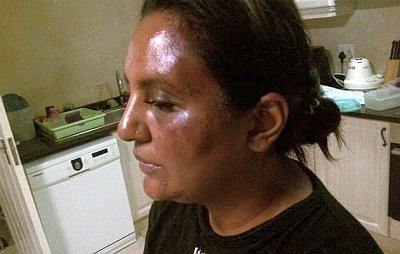 An Indian-origin author in South Africa has been brutally assaulted and verbally abused after she praised controversial writer Salman Rushdie whose work has angered Muslims around the world.
Zainub Priya Dala was hit in the face with a brick last week after she praised Rushdie's writing at a school in Durban, a city on the country's east coast.
Dala had been due to launch her novel What About Meera in the city on Saturday, which was ironically Human Rights Day in South Africa, but had to postpone it after being injured.
She was reportedly followed from the hotel where the festival was taking place by three men in a vehicle who forced her car off the road.
When she stopped her vehicle, two of the men came to the car, one allegedly putting a knife to her throat while the other struck her in the face with a brick while he verbally abused her.
Dala said she believed the attack occurred as a result of a comment she made during a writing forum for schools earlier in the week, when she and two other authors were asked to comment on their favourite authors.
She replied that she liked the styles of Rushdie and Indian author Arundhati Roy, which led to a number of teachers and students attending the workshop walking out in protest.
Reacting to the attack, Rushdie said the attack on Dala was "appalling and disgraceful".
"I'm so sorry to hear this. I hope you're recovering well. All good wishes," Rushdie said in a tweet.
In her reply, Dala said: "Thank you. I have my family and children around me and am recovering."
Dala has filed an assault case with the police but there have been no arrests yet amid an appeal for any witnesses to come forward.
Steve Connolly, managing director of Random House and her publisher, said: "We condemn completely the brutish attack on author ZP Dala."
"Have we reached such a state of intolerance that we cannot listen to one writer profess admiration for another without wanting to attack her with a brick and a knife?
"It is ironic that at a time when the communities of Durban are welcoming writers, some elements are attacking those writers who hold different views. We must not let this shameful and violent bigotry prevail."

Rushdie spent a decade in hiding following a fatwa by Iranian spiritual leader Ayatollah Ruhollah Khomeini in 1989, calling for his death because of controversial views in The Satanic Verses.

Muslim outcry led to an invitation to Rushdie to a South African literary festival being withdrawn in 1988. A similar situation prevailed in India in 2012, when Rushdie withdrew because of death threats he had received.