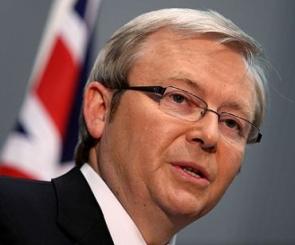 Five weeks after he seized the Labor Party leadership, Australian Prime Minister Kevin Rudd on Sunday set September 7 as the date for the country's next parliamentary elections amid growing unemployment and budget deficit.
"It's on. A few moments ago I saw the governor-general and asked that she dissolve this parliament and call the federal election for September 7," Rudd said in an email to Labor party members. "Australians now face a choice...And the choice couldn't be starker," Rudd said.
Earlier, Rudd flew in to Canberra this afternoon to visit the governor-general and formally ask Quentin Bryce to issue the writs for a poll. "The time has come for the Australian people to decide on our nation's future," he told the media after arriving back at Parliament House.
The five-week campaign will see Rudd hoping to complete a comeback for the Labor Party after he first assumed the prime minister' office with his landslide victory over conservative leader John Howard in 2007 polls, which ended suddenly in mid-2010 when his Labor colleagues turned on him and voted in Gillard.
The 55-year-old Chinese-speaking former Beijing diplomat, described Australia as a "truly great" country that was blessed with a strong economy and hard-working and creative people but now faced new challenges ahead. "This election will be about who the Australian people trust to best lead them through the difficult new economic challenges which now lie ahead. The Australian people therefore face a real choice for this election," he said.
The campaign follows Friday's mini-budget, according to which, the unemployment is expected to hit 6.25 per cent in 2013-14 and 2014-15. "Softening conditions could force an extra 70,000 Australians out of the workforce as growth slows and Commonwealth revenue collapse by 33.3 billion Australian dollars over the next four years," The Age said.

Failing terms of trade and declining tax revenues have lifted this year's projected deficit 12 billion to 0.1 billion dollars, despite 17.4 billion in spending cuts, the paper added.
Opposition Treasury spokesperson Joe Hockey said Labor's economic management was "chaotic" and its budget was in "free fall". "Nearly 8,00,000 Australians were likely to be jobless in coming months," Hockey said.
Rudd said that the "politics of the past" would not work in the future, arguing that negativity did not create jobs, build schools or hospitals, the Sydney Morning Herald reported. "A choice between a new way for the future with positive plans for managing the new economic challenges we face as opposed to the old negative politics and three-word slogans of the past.
"Australia is too open and positive a nation to retreat into a tight little ball of negativity."
Rudd further promised a "steady hand and a clear-cut plan for the future" with "new ways of thinking, new ways of acting, new ways of planning". "It's my intention to be in St Petersburg but I'm very mindful also of the other challenges which lie ahead of us as well," Rudd said.
He now faces a conservative opposition led by Tony Abbott, a former minister in Howard's government, in the election, which had to be held before November 30.
Labor holds 71 seats in the 150-seat house of representatives where parties form governments. The opposition holds 72 seats, with the remainder held by independent lawmakers or sole legislators from minor parties.
The September 7 election would means the planned referendum on the constitutional status of local governments will not go ahead, as voters would not have been given enough notice. The referendum was supposed to happen on the same day as former PM Julia Gillard's announced election date, September 14. Rudd in June had ousted Gillard, 51, as leader of the Labor Party. He won by 57 votes to 45, in leadership ballot of party lawmakers.