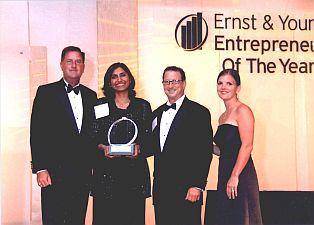 Sheela Murthy, founder, president, and managing attorney of the Murthy Law Firm, has won the Philanthropist of the Year award from the United Way of Central Maryland for her $1 million gift to United Way, a large portion of the sum being marked to go to India.
She also won the Entrepreneur of the Year award from Ernst & Young for the DC metropolitan area for being a leader in helping companies bring in the best and brightest from around the world to America. Her firm of 70 attorneys, located in Baltimore County, Maryland, concentrates on United States immigration law.
United Way said Murthy's gift of $1 million was the first time in the history of  United Way in Central Maryland that a woman and an immigrant had made this level of commitment to help both her local community and the community in her home country of India. She also became the first woman to join the United Way's Million Dollar Roundtable, an elite group of the organization's Tocqueville Society (for donors contributing $10,000 or more annually).
When she pledged her gift last year at the annual Tocqueville Society award celebration, Murthy got a standing ovation from the more than 400 business and community leaders in attendance. "We need a boost of positive energy at this difficult time, and I've worked hard and have been very fortunate," she said. "It's my responsibility as a woman, an immigrant, as a neighbor, and as a leader, to share our time, passion, commitment and resources, with those in need, both here and in my home country." And she quipped, "I will not feel insulted if others exceed my donation."
Murthy, a Baltimore resident since 1989 and former co-chair of United Way's Women's Leadership Council, later told rediff.com, "I am very privileged to be in that small exclusive group of people, which is right now zero, I understand, in terms of getting both awards in one year."
She said though she has her own charitable foundation with her husband and belongs to several other charities too, she had decided to make the contribution to United Way for many reasons. "You talk in a post-9/11 world," she said, "where there is automatic concern and fear in America and you don't want to be doing this on your own if you can help it. Even a big foundation has been struggling to get off the ground and just generally deal with possible terrorist concerns, and all kinds of clearances. So why not focus on your core values of purpose and passion, rather than focusing on becoming a bureaucrat and dealing with the bureaucracy in both countries?"
She said United Way had a great team. "United Way is a worldwide movement. It's got a household name value in the US, it's rock-solid. And yes, it's not perfect, but as I keep saying, in an imperfect world, it's probably your best bet of getting what you want and an agency with which you can work with."
Murthy emphasized that the award was not "just about the money" that she had contributed. "It's giving of your time, talent and treasure. For example, day after tomorrow morning, I am speaking in front of almost 1,000 women business leaders in Norfolk, Virginia, at their annual luncheon. Last week, I keynoted the Asha for Women conference. I am on more than half-a-dozen nonprofit boards, including the United Way board, the Girl's Scout Board, Stephenson University Board, the International Division of United Way and its Leadership Council for India," she added. "When you contribute to a board, you give them your input, including in my case, legal input, you give them your perspective on life, you share your passion and your commitment. And, the money is nice of course, but if I just wrote out a check and didn't do other things, I wouldn't have gotten the award."
She said part of her contribution to United Way would be on a specific project for slum children in the Chennakeshava School in Indiranagar, Bengaluru.  "There are about 1,800 kids and the school offers meals to the students as an incentive for them to attend school," she explained. "Because of the mid-day meal scheme through the Akshaya Patra Foundation, they get lunch, but these kids are starving when they come to school--the parents don't have money to give them breakfast. So, we provide the cereals, the milk, the breakfast. Then we give the ones who don't have money, uniforms, tuition, and scholarships and transportation--for those who have to walk five miles each way without chappals to come to school. We strongly feel the future of India is education of our downtrodden and the only way these families can get out of the cycle of poverty is by the children getting educated."
Her parents were from Bengaluru, but because her father was in the army the family moved around India, said Baroda-born Murthy. She is an alumna of the Stella Maris College in Chennai, the University of Bangalore College of Law and the Harvard Law School.
Image: Attorney Sheela Murthy at the awards function.