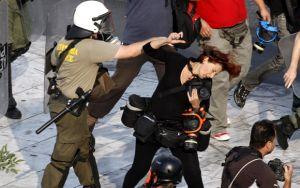 Violence against journalists took centre stage in 2014 with 66 reporters killed, says a report by Reporters Without Borders. While number of deaths may have fallen, violence against reporters has become more savage, and kidnappings have skyrocketed, the report says.
A total of 720 reporters have been killed since 2005, while kidnappings soared to 119 -- 40 journalists are still being held.
The report says that there was a slight drop in the number of murdered journalists -- down from 71 last year -- largely due to fewer deaths in countries "at peace".

"Rarely have reporters been murdered with such a barbaric sense of propaganda, shocking the entire world," the reports states, which refer to the public execution of journalists, beamed around the world by terrorists.
66 journalists have died around the world this year, including the gruesome decapitations of US journalists James Foley and Steven Sotloff.
"Local journalists pay the highest price, representing 90 percent of those abducted," the report said. "Of the 22 journalists currently being held by armed groups in Syria, 16 are Syrians. All of the 8 journalists currently held hostage in Iraq are Iraqis."
Worldwide, a total of 178 professional journalists were in prison as of December 8, the same number as last year.
The report says that Syria remains the most dangerous place to report from, followed by Palestine, Ukraine, Iraq and Libya.
China is the world leader in imprisoning journalists, with 29 currently behind bars.
Photographs: Yannis Behrakis/Reuters