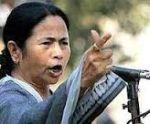 Kolkata West Bengal Governor M K Narayanan on Wednesday joined the chorus of condemnation of gheraoing of Chief Minister Mamata Banerjee and Finance Miniser Amit Mitra, calling it a "pre-meditated assault" and unprecedented that warranted an apology by the CPI-M politburo.
The CPI-M rejected the charge by the governor that the incident in which Banerjee was gheraoed and Mitra heckled was pre-meditated and ruled out an apology.
Narayanan also described the incident as "a blot" on the country's cherished democratic values.
In a strong statement issued here, the governor said, "The shocking pre-meditated assault on the chief minister, the finance minister and other senior ministers of West Bengal in the National capital is an extremely unfortunate incident and a blot on India's cherished democratic values."
The governor said the incident deserved to be condemned in the strongest terms and that those responsible for the attack and their instigators have forfeited their right to function within a democratic framework.
"This kind of attack on a democratically-elected chief minister, the finance minister and their cabinet colleagues is unprecedented in India's modern history and is serious enough to warrant a public apology by the politburo of the CPI (Marxist)," he said.
CPI(M) state secretary Biman Bose, who is the Left Front chairman, in his response said, "I don't know why he (governor) is saying that the incident is premeditated. He has been a seasoned IPS officer."
Bose also claimed that the Governor was unaware of the functioning of the CPI(M) politburo.
"He is not aware of the politburo that's why he is saying such things," he told reporters. Bose also noted that the Left Front has condemned the attack on Mitra.
A state minister who was present along with Banerjee and Mitra during the attack alleged it was a ploy to kill the chief minister.
"It was a ploy to kill Banerjee. Had Firhad Hakim not prevented a SFI supporter from attacking her with an iron rod she would have received fatal injuries," Panchayat minister Subrata Mukherjee said.