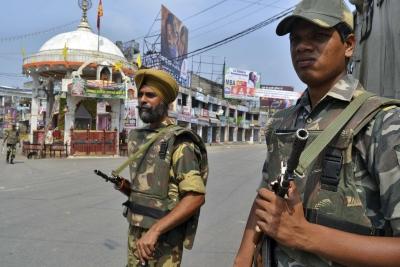 The attachment proceeding has been initiated against two absconders accused in a murder case during the Muzaffarnagar riots. Chief Judicial Magistrate Narender Kumar at the request of the police ordered attachment proceeding against two accused -- Kapil and Mintu -- under Section 83 of the CrPc, on Saturday.
Both the accused are absconding since their involvement in the case during the riots at Mukandpur village under Titawi police station in the district
One Rozuddin was shot dead and his nephew Arshad was seriously injured by the rioters when they were on their way to seek shelter in the village. The police registered a case against Kapil, Mintu and four others -- Gaurav, Nikhil, Bhola, and Sumit, and during the investigation all accused were found involved in the case and a Special Investigation Team had asked the police to arrest them.
While Kapil and Mintu have been absconding, three other accused have been arrested and one of them has given a surrender application, the police said.
More than 60 persons were killed and over 40,000 displaced in communal violence that broke out in Muzaffarnagar and adjoining areas in September last year.