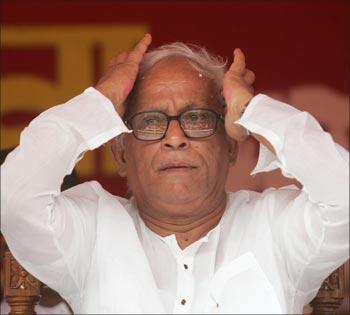 Reluctant to campaign so far, former Bengal CM draws large crowd in his first roadshow since the poll dates were announced, reports Ishita Ayan Dutt.

They seek him here, they seek him there; those Trinamoolis seek him everywhere. Except that it's not just the rivals, even Marxist party workers have been left high and dry by the absence of the elusive pimpernel of Bengal politics, Buddhadeb Bhattacharjee.
Since the Election Commission announced poll dates in West Bengal, Bhattacharjee has remained within the confines of the Communist Party of India-Marxist office on Alimuddin Street and its imposing portraits of Marx, Engels and Lenin.
Even in the high-voltage campaign against the ruling Trinamool Congress on issues like corruption and law and order, the former chief minister had not lent his voice.
But on Tuesday evening, he made a grand entry like a blockbuster hero with a sea of people in the heart of Kolkata. Bhattacharjee, who happens to be the CPI-M's biggest crowd-puller, had so far declined many requests for campaigning.

Ahead of the third phase of elections, however, he agreed to campaign for candidates in Jadavpur, Kasba and Tollygunge in South Kolkata.
Bhattacharjee stood in the back seat of an open jeep that moved slowly while several thousand walked beside him. The total distance covered was around seven kilometres but the time taken made it seem many times more.
It was from Jadavpur constituency that Bhattacharjee had lost in 2011 by 17,000 votes to Trinamool's Manish Gupta, once a chief secretary in his government. That defeat had consumed him.
In the past five years, many a time, Bhattacharjee had expressed a desire to hang up his boots; he has opted out of the politburo and the central committee and is a reluctant member of the state secretariat. Needless to say, he is not contesting the election this time. But he deliberates, reflects and strategises for the party.
In January, when the party flagged off a march from Singur to protest against 'de-industrialisation' of West Bengal, it was Bhattacharjee who had called on Congress to come forward and join hands to fight Mamata Banerjee.
Bhattacharjee had always harboured the feeling that withdrawing support from the United Progressive Alliance-I was a mistake for which the Left Front had to pay a heavy price in Bengal in 2011. The party leadership, however, had blamed his 'neo-liberal' policies, leading to Bhattacharjee skipping many politburo meetings.
Much of that bitterness is likely to have been washed away by the wave of support that Bhattacharjee got in Tuesday's road show. And if that translates into votes, it could be a worrying factor for Mamata Banerjee, who is battling allegations of corruption within her party.