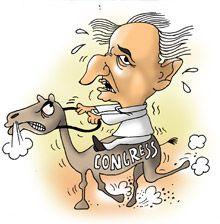 How C P Joshi is scuttling the Rajasthan chief minister's bid to retain office. Illustration: Uttam Ghosh/Rediff.com.
The Congress party is its worst enemy in Rajasthan.
Congress General Secretary C P Joshi is going around telling people that in the event of victory in the assembly election, newly elected Congress MLAs will select the new chief minister.
In other words, incumbent Chief Minister Ashok Gehlot may not continue in office.
Coming from a senior party official who is close to Congress Vice President Rahul Gandhi, Joshi's remark is weakening Gehlot's bid to remain in office.
Many Congress leaders sympathetic to Gehlot feel the chief minister's good work in the state has been neutralised by the Manmohan Singh government's poor handling of the steep rise in prices.