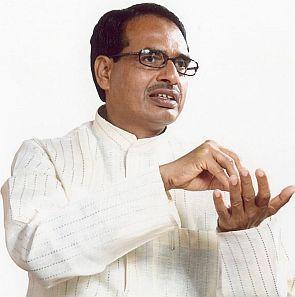 In an embarrassment for the Bharatiya Janata Party, 10 of its incumbent ministers have lost the polls, even as the ruling party led by Chief Minister Shivraj Singh Chouhan scored a hat-trick in the assembly polls.
Prominent ministers who were defeated include Public Relation and Culture Minister Laxmikant Sharma (Sironj), Medical Education Minister Anoop Mishra (Bhitawrar), Tourism Minister Brajendra Pratap Singh (Pawai), Labour Minister Jagannath Singh (Chitrangi), Revenue Minister Karan Singh (Icchawar).
Laxmikant Sharma failed to retain the Sironj seat in Vidisha district after he lost by a margin of 1,584 votes. He polled 63,713 seats against the 65,297 polled by Congress candidate Govardhan Lal.
Former Prime Minister Atal Bihari Vajpayee's nephew, Anoop Mishra, who had shifted to the Bhitarwar seat, lost the poll to Lakhan Singh Yadav of the Congress by 6,548 votes. Lakhan got 40,578 votes, while Anoop managed to win 34,030 votes.
Minister of State for Tribal Welfare Harishankar Khatik (Jatara), Agriculture Minister Ramkrishna Kusumaria (Rajnagar), General Administration Minister Kanhaiyalal Agrawal (Bamori), Animal Husbandry Minister Ajay Vishnoi (Patan) and another minister Dashrath Singh Lodhi (Jabera) also lost the polls.
The ministers could not win the election due to the anti-incumbency wave prevailing against them, sources said.
However, not all the ministers were unlucky and those who survived include Sartaj Singh, who once again defeated veteran Congressman Hazarilal Raghuvanshi from Seoni Malwa constituency in the Hoshanagabd district.
Another minister, Narottam Mishra, emerged victorious again from the Datia constituency, where he defeated Rajendra Bharti of the Congress by around 9,000 votes.
Energy Minister Rajendra Shukla won from Rewa constituency with a handsome margin even as Digvijaya Singh's relative, Priyawrat Singh, failed to get re-elected from the Khilchipur constituency in the Rajgarh district.
In the run-up to the elections, BJP general secretary in charge of Madhya Pradesh, Anant Kumar, had admitted that there was an anti-incumbency wave against its ministers and MLAs and added that the party had negated it by denying tickets to 44 sitting MLAs.
Image: Madhya Pradesh's three-time chief minister, Shivraj Singh Chouhan.