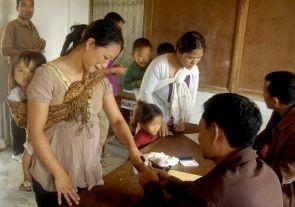 Swamped by Korean films dubbed in Mizo language, the film industry in Mizoram hopes that whichever party comes to power after polls should allocate more funds for its development.
The chorus for more funds for Mizo films had gained momentum after a movie by independent film-maker Mapui Chungwatha, 'Khawnglung Run', was selected for screening in the Goa International Film Festival.
"If a film-maker wants to make a film he doesn't get funds. Neither the government nor any department comes forward to help film-makers. So from where will good films come?" Mapui Chungwatha told PTI.
The dubbed Korean films and serials are a mode of entertainment for thousands of Mizos, who hardly get to see a Mizo movie or a serial in the two main local cable channels.
The main reasons for the huge popularity of Korean films are their easy accessibility and similarity in facial features and some traditions in Korean soaps.
In last year's budget, Rs 20 lakh was earmarked for the promotion of visual arts and film industry by the Mizoram government, which the film-makers feel is not enough.
"What can a person do with just Rs 10 lakh for film making? I used my own money of around Rs 10.6 lakh for making 'Khawnglung Run'. From that you can understand how insufficient the money granted by the government is," said Mapui.
With actors and part time actors working outside Mizoram due to lack of opportunity, the ailing film industry has been producing only one or two films on an average every year.
The fact that Mizoram does not have any cinema halls, save one or two low capacity 3D halls that have come up in last few months, reflects the sorry state of the film industry in the state.
"Even if you make films using your own money where will you screen it as there are no cinema halls in Mizoram. So if you can't screen a movie where from the producers will get their money back?" questioned Awmpuia, president, Mizoram Producers Guild.
"Whichever the party comes to power we hope that they will allocate more funds for the film industry and will seriously take up policies on development of theatres and other infrastructure for its development and growth," said Awmpui.
He noted that growth of the film industry in turn will create both direct and indirect employment for the youth of Mizoram.
Taking note of the growing influence of Korean films in the state, Information and Public Relations Department in coordination with Mizoram Film Development Society, have started providing basic training to aspiring film-makers by organising seminars and workshops.
"The main problem here is of marketing a film as it's a small state. But we have plans to make Mizo films and then dub it in other regional languages, which in turn will not only increase revenue, but also help showcase our art, culture and talent," said Lousie Halwar, an official of Mizoram Film Society.
The ruling Congress in its manifesto has promised that if it comes to power again it will construct theatres for screening Mizo films.
"In Mizoram we have a small budget. So it's not possible for us to allocate huge funds. But yes, if we come to power we will construct film theatres for screening Mizo films and develop the film industry as a whole," said Lalthanzara, parliamentary secretary to the chief minister.
Slamming the Congress regime for not doing much, the main opposition alliance MDA led by MNF said that if it comes to power it will implement youth commission programs throughout the state for the development of films, art and culture with the active participation of Mizo youths.
Election to the 40-member Mizoram Assembly will be held on November 25.