Congress has pushed Haryana Chief Minister Bhupinde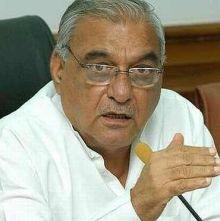 r Singh Hooda to counter the development theory of Chhattisgarh Chief Minister Raman Singh.
Gujarat Chief Minister Narendra Modi was also present in Raipur on Friday. But failed to recall the "story" of Gujarat's growth even asHooda scored over for his state.
The BJP Chief Minister in Chhattisgarh has been using the state's growth and development as a major poll plank in the state poll 2013.
The opposition Congress is finding it hard to counter the 10-year rule of BJP that Singh claimed was packed with state's prosperity.
Congress projected Hooda to counter Singh and organised his meeting in the industrial town here on Friday. Modi was also in the town addressing an election meeting for the BJP candidate.
While Hooda spoke about the development and growth of Haryana, Modi skipped to present the "Gujarat Model". The state of Haryana got central fund less than Chhattisgarh, Hooda said. But the state surged much ahead of Chhattisgarh in terms of growth and development, headed.
Modi however confined his "attack" on the Gandhi family. Taking a dig at Rahul Gandhi's view of changing the system, Modi said he (Rahul)should first tell who were the architect of the system. "It was hisgreat grand-father, grand-mother and father who created the system during the 60-year rules of Congress in the country," Modi added.
Modi is clever enough. He missed to speak about Gujarat as he knew Raigarh has a nominal Gujarati population.
But Hooda was familar that the town has a considerable population from his state employed in the industries. Hence, he did not miss the read the political pulse.