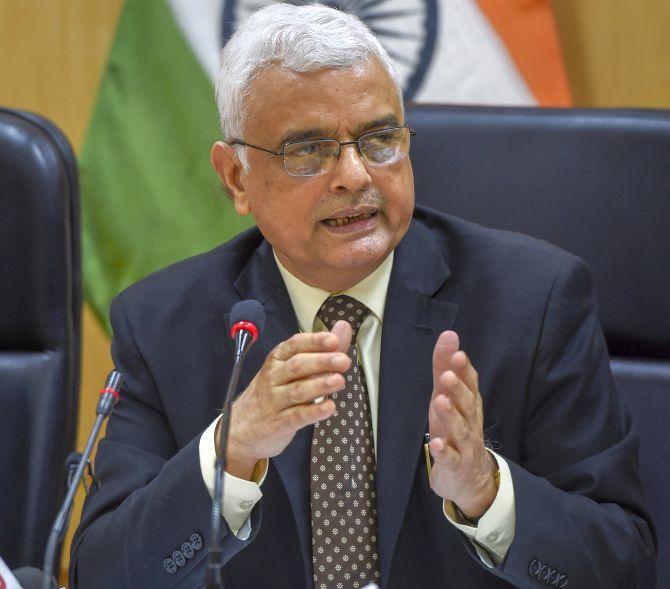 The Election Commission on Thursday said fresh elections in Jammu and Kashmir would be held within the next six months even as it did not rule out the possibility of holding polls there before the Lok Sabha polls due next year.
"The Jammu and Kashmir assembly polls must be held on the first occasion before May ... it could be held before parliament elections also," Chief Election Commissioner O P Rawat said.
He said as per the Supreme Court, the outer limit for holding fresh polls after dissolution of a house is six months, that is May, 2019.
At the same time, he made it clear that the Commission will decide on poll dates after 'considering all aspects'.
He said, SC verdict, an outcome of Presidential reference, also said polls will have to be held on the first occasion which means even before six months.
He said the same principle was applied in Telangana where the assembly was dissolved prematurely.
Earlier, the Bharatiya Janata Party said that the assembly election in Jammu and Kashmir should be conducted along with the 2019 general election.
BJP's Jammu and Kashmir president Ravinder Raina said that the party has called for a meeting on Thursday with all of its MLAs to discuss the future course of action.
"The Bharatiya Janata Party has called for an important meeting with all its MLAs today and we will decide the future course of action. We wish that the assembly elections in J&K should be conducted along with the Parliament elections," Raina told ANI.
The BJP on Wednesday said on Twitter, soon after Jammu and Kashmir Governor Satya Pal Malik dissolved the assembly amid claims by rival formations on forming a government, that the border state cannot afford horse-trading and instability keeping its security scenario in mind.
'The proposed alliance between the Congress and the PDP broke up even before it was formed. They have taken contradictory positions on dissolution. One supports it and the other opposes it,' the BJP said.
'The best option in such a scenario is to go in for a fresh election at the earliest. This assembly cannot produce a stable government,' it added.
Jammu and Kashmir needs a firm administration to deal with terrorism and not a combination of terror-friendly parties, it added.
With inputs from ANI