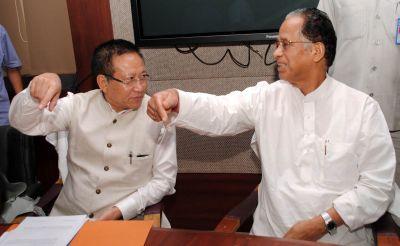 In a meeting mediated by Union Minister of State for Home, Khiren Rijiju, the Chief Ministers of Assam and Nagaland, Tarun Gogoi and T R Zeliang, on Thursday promised to take joint efforts to resolve the vexed boundary dispute.
Rijiju said the Bharatiya Janata Party-led government at the Centre had taken a serious view of the violence along the disputed boundary and would take steps to resolve it.
He blamed the crisis on the lack of communication at the ground level and warned opportunist forces against exploiting the situation.
Five key resolutions were made at the meeting between the chief ministers.
Both states would make efforts to resolve the boundary issue, they would not allow economic blockades imposed by protesting organisations, the Nagaland government would try to secure the release of two persons abducted by rebels from Uriamghat, both governments would focus on rehabilitation of persons who have been rendered homeless because of the violence and a joint peace committee comprising of representatives from both states would be formed at the boundary areas.
Tarun Gogoi called the meeting a good beginning and hoped that the dispute would be resolved soon. He said the situation along the troubled inter-state boundary area at "B' Sector in Uriamghat in Golaghat had been brought under control.
Deputy Commissioner of Golaghat district called representatives of 7 agitating organisations for a meeting to find a way out of the impasse.
The organisations have demanded protection of people living in the boundary areas, monetary compensation of Rs 5 lakh each for families of those killed as well as the three persons killed in police firing on Wednesday. The organisations further demanded immediate rehabilitation of those rendered homeless.
Image: Nagaland Chief Minister T R Zeliang and Assam Chief minister Tarun Gogoi at a meeting on the border dispute.