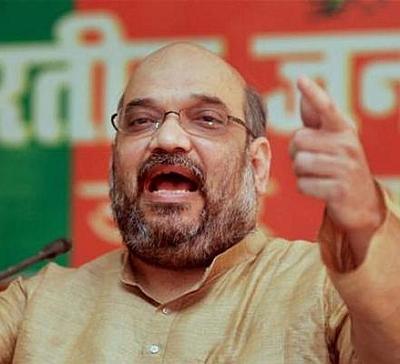 Keeping an eye on the upcoming assembly elections, Bharatiya Janata Party President Amit Shah on Wednesday promised the people of Assam that if his party comes to power it will put an end to unabated infiltration into the state from Bangladesh.
Addressing two rallies at Kokrajhar and Nagaon, Shah appealed voters to vote out the 'corrupt and inefficient' Congress government in Assam.
"The ruling Congress party in Assam is encouraging illegal migration from Bangladesh. A BJP government in Assam will ensure no more illegal migration," the BJP chief said.
Blaming the Congress for cross border migration, Shah said that illegal migrants from Bangladesh had eaten into livelihood options of indigenous youth in the state besides posing a threat to the identity of the locals.
During his visit to the state, Shah also attended the celebration of 14th Bodoland Day in Kokrajhar organised by the BJP's new poll ally Bodoland People's Front, which is in power in Bodoland Territorial Autonomous District Council.
Highlighting the fact that Assam is one of poorest states in the country despite its natural beauty and hard working youth, Shah said, "Assam is rich in natural resources, efficient work forces and great tourism potential. Yet, the state is lagging behind in all fronts. Even the one-horned rhino that attracts so many tourists to Assam could not be protected by the present government as about 100 rhinos have been poached in the last three years."
Shah also stated that during Congress's regime state's unemployment figure has gone up from 9 lakh to 23 lakh.
Meanwhile, Chief Minister Tarun Gogoi has rebutted Shah's allegations saying, "If my government is corrupt, then why the BJP has taken one of my former ministers (Himanta Bishwa Sharma) into the party?"
Gogoi said instead of shedding poll-time crocodile tears for backward Assam, the BJP president should tell the government in the Centre to restore special category status of Assam at the earliest. So that special development funds continued to flow to the state from New Delhi.