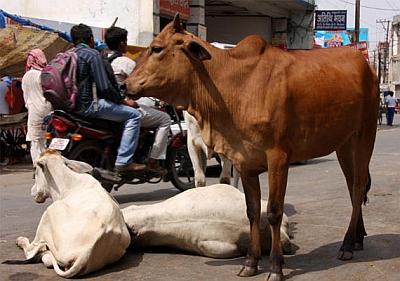 Police on Monday detained two persons in connection with the alleged lynching of two suspected cattle thieves in central Assam's Nagaon district but refrained from terming it as a case of 'cow vigilantism'.
District Superintendent of Police Debaraj Upadhay said, "We have picked up two persons in this connection and after investigation as to whether they were involved in yesterday's lynching incident, we will arrest them."
Sunday's incident was an outcome of "mob fury leading to the brutal killing of the two persons suspected to be cattle thieves", he said.
Asked if it was a case of 'cow vigilantism', the SP said, "Not at all. There is no communal issue involved in the incident. It was a case of mob being angry and beating up the two suspected thieves".
"The owner of the cattle in Kasamari village saw two men taking away his cows and shouted for the local people to stop them. The people there came out and chased the two before the angry mob beat them up, injuring them seriously," Upadhay said.
The police team which arrived at the site rushed the two to hospital where they succumbed to their injuries, he said.
Stating that the deceased have been identified as Abu Hanifa and Riyazuddin, the SP said their parents have registered a complaint with the police and investigations are on.
Although some incidents of cattle thieves being thrashed by the mob have been reported from Assam earlier, this is the first casualty after cases of cow vigilantism have been reported in recent times across the nation.