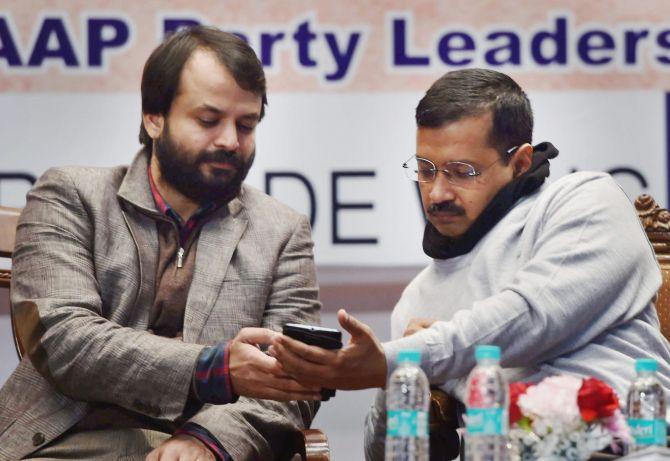 Aam Aadmi Party leader Ashish Khetan announced his resignation from the party on Wednesday, a week after another key face, Ashutosh, made his exit, pushing the party grappling with dissidence and discontent into further uncertainty.
Sources in the party said Khetan had sent his resignation to AAP chief Arvind Kejriwal on August 15, the day Ashutosh announced that he quitting the party.
They said Kejriwal is yet to accept the resignations of Khetan and Ashutosh.
'For the past two years I have been plagued with self doubt and the question of whether I wanted to continue in electoral politics. Early this year I made my decision to quit active politics after much deliberation and in consultation with family and close friends,' 46-year-old Khetan said in a Facebook post.
'However, since both the party and the government were beset with a series of crises, I waited for an opportune time to formalise my decision. I had also informed the party leadership about my decision, on more than one occasion,' he said.
Khetan, an investigative journalist, had been working with Kejriwal since 2013 and unsuccessfully contested the Lok Sabha elections from the New Delhi constituency in 2014.
He later became one of Kejriwal's closest aides, and was appointed vice chairperson of Delhi Dialogue and Development Commission, an advisory body of the Delhi government.
Khetan quit the post of vice chairperson of the commission in April.
Party insiders said discontentment among senior leaders grew after the AAP nominated Delhi-based businessman Sushil Gupta and chartered accountant N D Gupta for the vacant Rajya Sabha seats from Delhi along with senior leader Sanjay Singh.
They said Ashutosh, Khetan and Kumar Vishwas, a founder member of the party, were upset over the AAP leadership's choice of the businessman and the chartered accountant for two of the three Rajya Sabha seats in April.
All three AAP nominees are now members of the Upper House.
Vishwas had criticised the AAP leadership after he was overlooked for a membership of the Rajya Sabha, and alleged that a smear campaign was waged against him.
AAP sources claimed Khetan wanted to contest the 2019 Lok Sabha elections from the New Delhi parliamentary seat that he had lost to Bharatiya Janata Party's Meenakshi Lekhi in 2014.
But his demand was not being accepted by the leadership and this could be one of the reasons for his decision to quit the party, they said.
The resignations by the two senior AAP leaders come at a time the party is grappling with problems in its Punjab unit.
AAP leader from Punjab Sukhpal Singh Khaira revolted against the party leadership after he was removed as leader of opposition in the state assembly.
The dissident MLAs have appointed Khaira as the Punjab unit's interim president.
The party, which was formed in November 2012 following a massive anti-graft movement led Anna Hazare, has witnessed a lot of internal turmoil in the last few years.
Several founding members have either quit the party or were expelled. These include Prashant Bhushan, Yogendra Yadav, Ilyas Azmi, Mayank Gandhi, Shazia Ilmi and Anjali Damania.
Bhushan and Yadav, who were part of Kejriwal's core team till Lok Sabha polls in 2014, were expelled from the party in April 2015 over allegations of anti-party activities.
'The list of those who founded AAP or joined it with great idealism, but left, bitterly disillusioned, is long, very long. It was a moment of great hope. All destroyed by the unscrupulous ambition and lack of vision of one man. A case study of how an Org or movement can be destroyed,' Bhushan tweeted.
In a parting note, Khetan wished 'good luck' to his 'ex-party colleagues' in their future endeavours.
'My personal decision to move away from party and electoral politics should not be viewed as a reflection on AAP, in any way whatsoever,' Khetan said in the Facebook post.
'I continue to hold all my ex-party colleagues in high regard and wish them good luck in their future endeavours,' the post said.
Khetan also termed it as 'unfortunate rumours' that his decision was linked to his desire for 'any' seat.
'I would also like to quell the unfortunate rumours that my decision is linked to any desire for any seat. The party had graciously asked me to contest the upcoming Lok Sabha elections, but I had politely turned it down,' he said.
Saying that he wished to focus on his legal practice and writing after quitting active politics, Khetan contended contesting election would have further entrenched him in 'world of politics'.
Four AAP candidates from Punjab were elected to the Lok Sabha in 2014 but two of them were later suspended from the party for on the charge of breaching the party discipline.
Since its dream performance in the Delhi Assembly polls in February 2015 when it won 67 of 70 seats, the party has not been able to achieve any major electoral success.
It was betting big on the Punjab assembly polls in March 2017 but ended up a distant second.
In the Delhi municipal elections in April 2017, the AAP was defeated by the BJP.