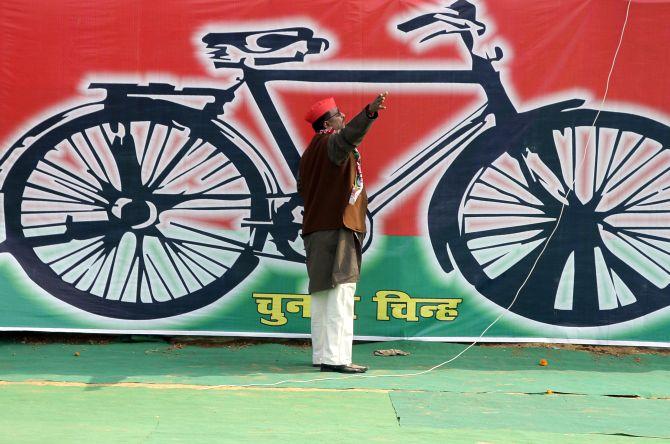 The deadlock in the Samajwadi Party on Saturday showed no signs of easing with warring factions led by Chief Minister Akhilesh Yadav and his father Mulayam Singh Yadav failing to reach any agreement despite fresh confabulations.
Mulayam stayed put in his 5-Vikramaditya Marg residence where he met his younger brother Shivpal Yadav, senior party leaders Azam Khan and Ambika Chowdhury, Assembly Speaker Mata Prasad Pandey and some others but nothing concrete came out.
For the record, Chowdhury, while emerging from Mulayam's residence, said, "All will be well. SP will remain one."
SP treasurer and Rajya Sabha MP Sanjay Seth also met Akhilesh as his residence.
The parleys had gained momentum on Friday with the Election Commission setting January 9 deadline for the two sides to stake claim to the 'cycle' symbol.
Malayam's cousin Ramgopal Yadav claimed the Akhilesh camp has collected signatures of 212 of the 229 MLAs, 56 of the 68 MLCs, 15 of the 24 MPs and a majority of the 5,000 delegates, "making it crystal clear as to which was the real SP".
In Etawah, Mulayam's brother Abhayram Yadav hailed Shivpal and blamed "stubborn Akhilesh" for the ongoing crisis within the family and party.
"Akhilesh is stubborn. Shivpal used to take him to school and take care of him," he said when reporters asked him about the issue.
As part of reconciliation efforts in the Yadav clan, Shivpal had met Akhilesh on Friday for the first one-on-one since the split in SP on Sunday sending a ray of hope that some positive development could be on the cards.
At one stage, it appeared that a breakthrough has been achieved when a message was sent to the media that Mulayam will hold an emergency press conference to make a "big announcement". But, minutes later it was called off without assigning any reason.
SP MP Amar Singh, whose return to the party recently after six years was one of the reasons for discord between Mulayam and son Akhilesh, has said he was in favour of a patch-up between the father and the son and that he was not a "hurdle" in the path of the chief minister.
Sources privy to the fast-paced developments did not rule out the possibility of resignation of Amar Singh, the "outsider" under a "compromise formula".
Another possibility could be resignation of Shivpal from the post of state SP chief, a charge held by the chief minister before the current family feud broke out.