Army was called in on Friday in nine districts of Haryana and curfew was imposed in two districts along with shoot-at-sight orders after one person died and 25 were injured during the Jat stir for quota which turned violent with mobs resorting to widespread arson.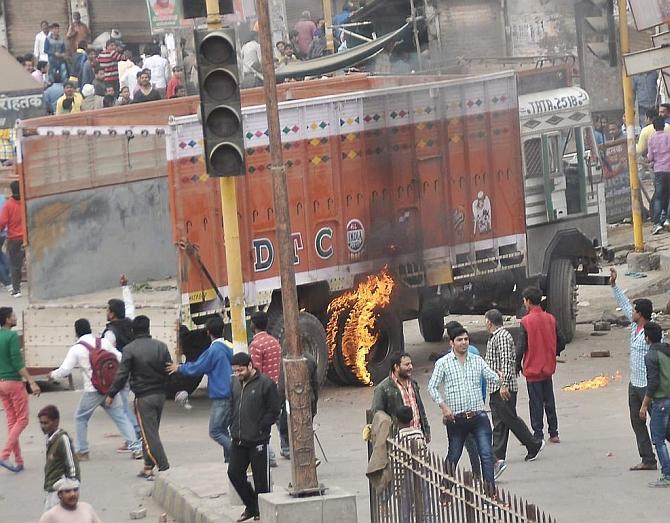 The Centre has rushed 3300 paramilitary personnel to Haryana and assured Chief Minister Manohar Lal Khattar of all possible help to maintain law and order as rampaging mobs held some policemen captive besides setting ablaze the house of state's Finance Minister Abhimanyu and several government and private properties in Rohtak, Jhajjar, Hansi and several other parts of the state.
The agitationists, who are seeking reservation under Economically Backward Classes, also targeted police and private vehicles, buildings housing offices, including two
Toll Plazas at Hansi in Hissar district and near Rohtak, both located on the Delhi-Hisar-Fazilka National Highway.
One protestor was killed in Rohtak when the BSF personnel opened fire in "self-defence" after someone from the rampaging mob fired at and injured a BSF jawan, Haryana DGP Yashpal Singhal told a press conference in Chandigarh.
Since the situation was going out of control, army has been called in for deployment in eight worst-affected districts -- Rohtak, Jhajjar, Jind, Bhiwani, Hissar, Kaithal, Panipat and Sonipat, the state police chief said.
Army is also being rushed to Karnal, army sources said in Delhi, while informing that nine columns are being sent altogether.
On Friday night, curfew was imposed in city limit areas of Rohtak and Bhiwani city limit areas, an official spokesman said.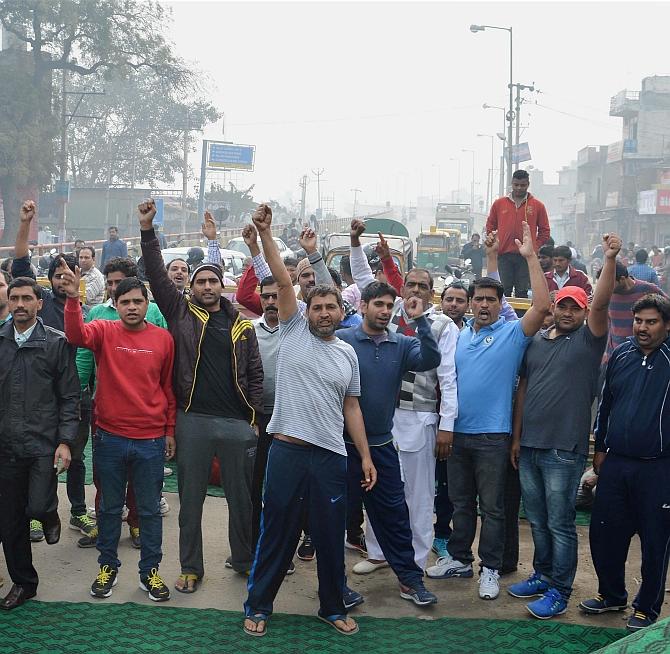 The agitation, which has been going on for last few days, escalated and turned violent soon after an all-party meeting held by Chief Minister Manohar Lal Khattar issued an appeal for calling it off.
The protesters rejected the appeal even as Khattar gave an assurance that a solution will be worked out to extend reservation to the community.
Army units were being rushed to Rohtak from nearby Cantonment at Hissar, about 50 kms away, the official spokesman said, adding these will be deployed immediately in Rohtak and Bhiwani areas.
He said army units are also being rushed from Jaipur for deployment in other worst-affected areas of the state.
The army will assist the civil administration in restoring peace and law and order which worsened on Friday shortly after an all party meeting where an appeal was made for maintaining peace.
Two senior civil and police officers -- Principal Secretary (Home) A K Singh and ADGP of Haryana Police B S Sandhu -- have been rushed to Rohtak to coordinate with the army and the civil administration to restore normalcy.
The camp office of BJP MLA Manish Grover in Rohtak was also set on fire on Friday night.
Authorities in Post Graduate Institute of Medical Science & Hospital, Rohtak, said 19 of the 25 injured people admitted there had bullet injuries.
"One person who was critical has been operated upon and his condition is now stable," they said.
Besides stationing Principal Secretary (Home) A K Singh and ADGP B S Sandhu at Rohtak, government has rushed six other senior IPS officers to other districts. They are Paramjit Singh Ahlawat (Sonipat), B K Sinha (Jind), K K Rao (Jhajjar), P K Aggarwal (Bhiwani), O P Singh (Kaithal) and K K Sindhu (Panipat).
The main impact of the Jats' agitation is in various districts of the state including Rohtak, Jhajjar, Bhiwani, Hissar, Fatehabad, Karnal, Jind, Yamuna Nagar, Sirsa and Gurgaon, where road transport has come to a halt.
On Friday, for the first time, the rail and road traffic on the Delhi Ambala National Highway and mainline railway route was also blocked by protestors at various places including in Sonipat district.
A number of local, short distance and long distance trains, including Kalka Chandigarh Delhi Shatabdi have been cancelled in view of the Jats agitation.
The DGP said police personnel were taken captive by the large number of protestors at some places including Rohtak and the cops were unable to perform their duties.
In Rohtak, the protesters set on fire the residence of Finance Minister Abhimanyu, police said, adding a car parked outside the house was also set on fire.
In view of this incident, security in and around the residences of ministers and legislators has been beefed up, officials said.
The protesters, who had gathered at the Rohtak bye-pass road of Delhi Hissar National Highway, also allegedly attacked police vehicles which were parked there in which window panes were damaged, officials said.
The security personnel deployed there had to use force, including firing, to control the violent mob.
The Circuit House and the office of Inspector General of Police (IGP), Rohtak. were also attacked by the protestors who pelted stones on the buildings. A car parked at the IGP office was also damaged, officials said.
A police vehicle and some private vehicles, including a two wheeler, were also set on fire.
The scooter of a person who was taking a sick to a local hospital was also set on fire by the protestors.
Elsewhere in various places in the state, protestors deflated tyres of cars of a number of people trying to travel on various National and State Highways in the state.
Haryana Roadways has suspended its local and inter-state bus services in the affected districts.
Mobile internet services have also been suspended in various districts, including Rohtak and Jhajjar.
Photographs: PTI Photo