From walking up to 10 kms to crossing rivers and spending nights in Naxal-hit areas, the poll officers will have to go past numerous hurdles and face life-threatening challenges to do their duty, but none of them is complaining.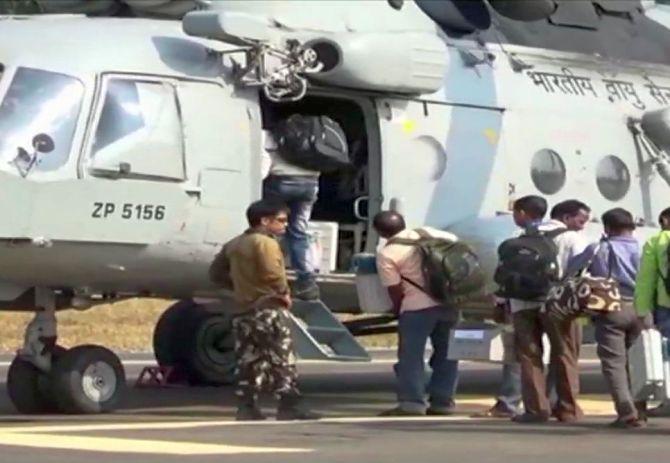 Crossing rivers barefoot, wading through jungles just sanitised by the accompanying security personnel and even airdropped by choppers into the Naxal-affected interiors, many on poll duty in Chhattisgarh feel like the real-life version of the protagonist from Bollywood dark comedy Newton, while some say they feel more like a revolutionary such as Bhagat Singh.
They are public sector undertaking employees, teachers, anganwadi and panchayat workers, among numerous others braving the treacherous terrain of the infamous Bastar region, which appear even more dangerous after a recent spurt in Naxal attacks ahead of the polls.
Many areas of Chhattisgarh will vote for the first time in 20 years, while some security and local administration officials proudly declare that a few of those are yet to make it to the Google Maps.
Talking to them, the immediate recollection is of Rajkumar Rao-starrer Newton, a film that took a satirical look at the Naxal problem through the eyes of a poll officer.
From walking up to 10 kms to crossing rivers and spending nights in Naxal-hit areas, the poll officers will have to go past numerous hurdles and face life-threatening challenges to do their duty, but none of them is complaining.
A few of them admit that they are a bit afraid, but they also assert that they still want to do this.
A 25-year-old anganwadi worker, the mother of two children, from Sukma district, says she is doing this for her father and brother, both of whom were part of the Salwa Judum and killed by Naxals.
Salwa Judum (meaning "Peace March" or "Purification Hunt" in Gondi language) was a militia mobilised and deployed as part of anti-insurgency operations in Chhattisgarh, aimed at countering Naxal violence in the region.
The militia, comprising local tribal youth, received support and training from the Chhattisgarh government. It was banned by a Supreme Court order in 2011.
"I always wanted to do something revolutionary like my father, so I am doing this for him and my brother. We need peace and hopefully, a successful election will lead to that," the woman, whose husband is in the police and who has left her kids with her mother-in-law, said.
"This is no less than a revolution for me," she added with tears in her eyes.
For another 22-year-old panchayat worker from Sukma, who has been asked to go to the hypersensitive polling booth at Chintalnar, it is a moment of pride as he will be the first person from his village to sit in a chopper.
"I am the only person from my block panchayat who is taking part in this exercise as my other colleagues are married. Being a bachelor, I was chosen. I am scared, but it is okay as I will be the first person from my village to sit in a chopper," he said with a broad smile on his face.
The poll parties going to the hypersensitive booths on the 80-km stretch from Dornapal to Jagargunda were mostly airlifted and had reached their respective destinations a day or two before the polling day, Sukma Collector Jai Prakash Maurya said.
A teacher from Bijapur district, in his late 30s, who is going to the Usur block on poll duty, said he belonged to a family of freedom fighters and was always inspired by Bhagat Singh.
"I always told my students in the village that you should do something for the country. Now, it is my turn to do something. If you ask me how do I feel, I don't know, but I might be doing something like what Bhagat Singh did," he said.
All the 437 polling booths in Sukma and Bijapur districts have been declared as "sensitive".
Bijapur Collector KB Kunjam said about 80 polling parties were airlifted and 76 relocated to a safer position, but there were still 40-odd booths that were extremely risky.
"Some of the poll officers conveyed to us that some of the polling booths, including those in schools, were painted with messages of boycotting the polls. So, we are making temporary arrangements," he said.
Both Maurya and Kunjam said some of the poll parties were dispatched two days before the polling.
Besides the local police, Central Reserve Police Force personnel and at some places, Border Security Force and Indo-Tibetan Border Police jawans would accompany them, they said, adding that necessary security arrangements were put in place.
"This election process is like a war for us against Naxals, but without guns and with voting machines," Maurya said.
On the request of the district collectors, the names of the poll officers have not been mentioned.