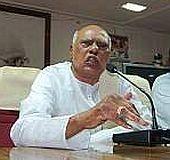 The worst flood in Andhra Pradesh, which left a trail of death and destruction, has dampened the campaign to make late Andhra Chief Minister YS Rajashekhara Reddy's son Jaganmohan Reddy the Chief Minister and helped interim CM K Rosaiah to consolidate his position.
With his rich administrative and political experience behind him, Rosaiah's handling of the crisis won the acclaim of Congress leadership. Rosaiah had a distinct advantage -- he enjoys a good rapport with all senior bureaucrats, unlike his predecessor Y S Rajasekhara Reddy, which helped him implement the disaster management plan efficiently.
Bureaucratic support helped him in mitigating the damage to a significant extent, particularly in Krishna, Guntur and Nalgonda districts which faced a greater threat than the worst-hit Mahbubnagar and Kurnool districts.
Prime Minister Manmohan Singh and Congress chief Sonia Gandhi, who conducted an aerial survey of the flood-hit districts, praised the chief minister over disaster management, sending a message to the party rank and file that Rosaiah would continue to hold fort for a longer period.
The natural calamity also pushed the pro-Jagan lobby into a situation, where it could not press the demand for elevating their leader at a time when the state was facing the worst disaster.
After functioning for 32 days from his old chamber -- which he occupied as finance minister -- Rosaiah moved to the Chief Minister's official chamber in the C-block of the Secretariat on October 5. This put him, so to say, firmly in the saddle.
Two days later, the chief minister shunted out controversial director general of police S S P Yadav replacing him with an 'upright' officer R R Girish Kumar.
He also effected changes in the police top brass. Rosaiah, sources close to him say, is expected to meet Sonia Gandhi soon and possibly get her consent for a cabinet reshuffle. Six cabinet berths are lying vacant and important portfolios like finance, power, commercial taxes, excise, infrastructure and investment are being held by the chief minister himself.
Though he may continue to hold the finance portfolio, Rosaiah will have to appoint ministers for other departments. Old-timers like K Jana Reddy and J C Diwakar Reddy, whom YSR dropped in his second stint, are likely to get into the ministry again given their experience and affinity with Rosaiah, Congress sources say.
Rosaiah became the chief minister on September 3, a day after Y S Rajasekhara Reddy was killed in a helicopter crash. But a group of legislators, led by government chief whip Mallu Bhatti Vikramarka, had launched a campaign on the same day demanding that YSR's son Jagan be appointed his successor.
Image: Andhra Pradesh Chief Minister K Rosiah