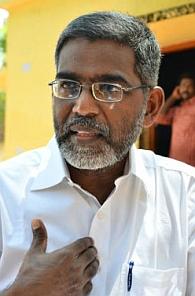 Noted anti-nuclear activist and convener of People's Movement Against Nuclear Energy S P Udayakumar has quit Aam Aadmi Party, saying he was doing so as he felt it was not paying attention to people of south Tamil Nadu.
In a Facebook post, Udayakumar, who had joined the AAP in March this year, said that as an anti-nuclear activist he had to move with people from various sections of society and hence could not identify himself with one party.
Udayakumar recalled he had joined AAP after consulting people protesting against Kudankulam Nuclear Power Plant and fishermen in the region. The locals had felt that the AAP would help take their protests forward, but their hopes were belied.
He said he had informed party leader Arvind Kejriwal of his decision when he recently met him at New Delhi.
Udayakumar said he had hoped that the AAP would provide an alternative to the BJP and the Congress, but it was not so.
"Whatever it may be working for the people is what is important. For good or bad, let the wheel turn," he said.
Udayakumar had contested the Lok Sabha elections, but lost his deposit.

Several cases are pending against him for organising protests against the KNPP.

Recently, the Tamil Nadu government had informed the Supreme Court that sedition charges against Udayakumar and others could not be withdrawn.

It said 349 cases were registered against PMANE members, of which 101 couldn't be withdrawn as they related to serious crimes like laying siege through sea and violence against private individuals and government servants.

PMANE had spearheaded the agitation against Kudankulam Nuclear Power Plant, commissioning of which was delayed due to anti-nuclear protests, doubting safety of such plants.
The first unit of the KNPP had attained criticality on July 3 last year.