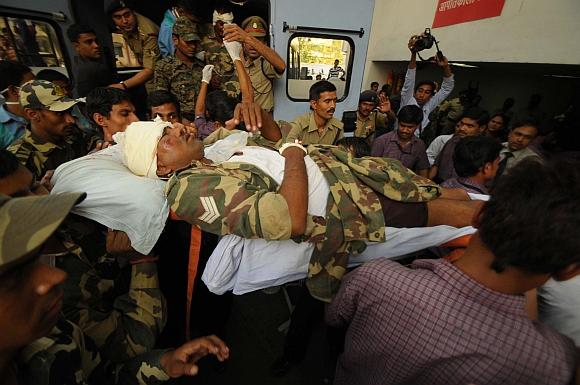 A first-of-its kind 'battle field hospital' is being set up deep inside the Naxal hotbed of Dantewada in Chhattisgarh which will provide immediate first aid to injured Central Reserve Police Force and other security forces officials undertaking anti-Maoist operations.
The mini combat-support hospital, aided with life sustaining and resuscitation gadgets, will be the first operational medical facility for security troops operating in various Maoist affected states.
The hospital will be housed inside the fortified CRPF camp in Chintalnar area of the district, which is synonymous with the worst-ever Naxal ambush carried out on security forces in 2010 where 76 men were killed.
Officials said such hospitals are created by the army and defence forces in the battle ground during wars and conflicts so that troops in operations are provided immediate medical help before they are evacuated by air or road for advanced treatment.
The CRPF, which has a full-fledged medical wing under its establishment, will base a team of doctors and para-medics at this camp round-the-clock.
The location of the hospital is considered apt as Chintalnar and the jungles of Dantewada are the most difficult areas to operate because they are frequented by armed Maoist cadres as it is heavily forested and lies near the tri- junction border axis of Chhattisgarh, Odisha and Maharashtra.
"The camp already has a helipad and troops who require medical care can be straightaway air-lifted from New Delhi to a nearest big hospital in Jagdalpur or state capital Raipur," a senior official deployed in the anti-Naxal operations grid said.
Officials said such a military hospital was required badly in this area as there have been numerous casualties of CRPF men where they have bled to death or developed complications because helicopter evacuation sorties could not come in due to bad weather or darkness or presence of hidden Naxal squads.
"The field hospital will act to sustain troops or patrols that get injured in either an Improvised Explosive Device blast or in a Maoist encounter. Basic health care facilities will be made available in New Delhi so that cases of blood loss, trauma and accidental haemorrhage can be controlled and a precious life is saved," the officer said.
"The force also plans to spread the health care benefits of this hospital for locals living around the area as the nearest primary health centre is located about 40 kms away in Dornapal. The force will stand to earn goodwill of the locals by helping them in medical emergencies," a CRPF commander said.
The force, mainstay for anti-Naxal operations in the country, has also asked the Chhattisgarh government to help it and provide this medical centre with medicines and other essentials from the state health ministry's medicine quota.
Sources said CRPF Director General Prakash Mishra, who recently toured the area after taking over the baton of the force, also accorded formal sanctions to the proposal which is a brainchild of CRPF Inspector General (Chhattisgarh) H S Sidhu.
The Chintalnar company base of CRPF in Dantewada houses a strong contingent of its combat troops and those from its elite commando strike unit CoBRA.