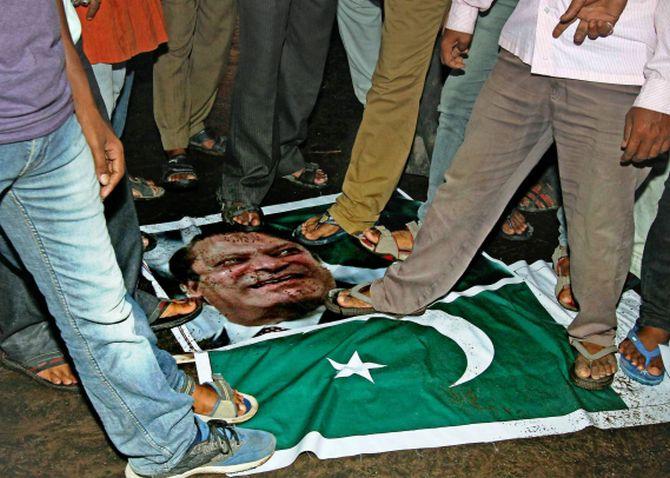 The Uttar Pradesh Anti-Terrorism Squad in a joint exercise with Maharashtra Police carried out overnight raids and nabbed a suspected Inter-Services Intelligence operative in Mumbai, who was part of an espionage racket linked to the Pakistan High Commission in New Delhi.
Three ISI suspects have been arrested since Wednesday as the UP ATS launched a massive crackdown to smash the espionage racket.
Acting on leads provided by ISI suspect Aftab Ali, arrested from Faizabad, 120 km from Lucknow on Wednesday, the UP ATS picked up Altaf Qureshi late on Wednesday night from Masjid Bunder area in South Mumbai and Javed Iqbal from Yusuf Manzil building at Agreepada this morning, IG UP-ATS Aseem Arun said in Lucknow.
He said the trio was involved in an espionage racket, with Aftab, believed to have been trained by Pakistan's spy agency ISI, maintaining constant touch with officials in the Pakistan High Commission.
A court in Lucknow sent Aftab Ali to 14-day judicial custody till May 17.
Special CJM Azad Singh fixed for Friday the hearing of an application moved by STF seeking his police remand for 10 days.
In the application, the STF said since the accused has admitted that he was a spy of the Pakistani intelligence outfit, his custodial interrogation was required.
Hinting that officials of Pakistan High Commission were in direct touch with the ISI agent, Additional Director General of Police (Law and Order) Aditya Mishra said, "One of the officials of Pakistan High Commission Meharban Ali was in touch with the agents."
Ali asked them to gather information about army movements and military installations in and around Lucknow and Faizabad.
Subsequently, Ali was expelled from India along with eight other embassy officials of different countries.
Ali had promised Aftab that he will arrange a visa for him.
"But, after Ali left India, he was replaced by another handler," Mishra said at a media briefing in Lucknow.
When asked whether the new handler is attached with the Pakistan High Commission, he said, "This aspect is also being looked into."
"Some of the relatives of Aftab are living in Pakistan, and he wanted to meet them. His visa was rejected three times. In the fourth attempt, his visa was approved, and it was during this time that he was actually indoctrinated.
"Aftab went to Pakistan for first time on May 1, 2014. He went to Lahore via Wagah border and stayed in Karachi's GreenTown. There he came in touch with ISI agent and was imparted training. Aftab returned to India on June 28, 2016, and was in constant touch with officials of Pakistan High Commission," the ADG said.
He said the army intelligence played a key role in busting the ISI activities.
"Some of the information which Aftab had passed to his Pakistan handlers included posting of different battalions of army in Lucknow and Faizabad, military installations and Army platoons in Amritsar," he said.
On whether any woman was used as 'honey trap', Mishra said, "We do not have any information in this regard. We have photographs and call details as evidence."
Pictures of the cantonment area in Faizabad have been recovered from Aftab's mobile phone and more clues are likely to be found through his mobile chats, he said.
Following Aftab's interrogation, Qureshi, a hawala operator who also allegedly worked for ISI was held in Mumbai, while Iqbal, the third suspect, is an aide of Qureshi, IG-ATS Arun said.
Qureshi had allegedly deposited money in the bank account of Aftab for carrying out espionage activities.
ATS officials seized a cell phone and Rs 71.57 lakh in cash from the house of Qureshi, who was in hawala business at the behest of one Jawed Naviwala, the officer said.
During the duo's interrogation, it was found that Javed used to get instructions from Pakistan and at his behest Qureshi often deposited money in Aftab's bank account, he said.
Police were questioning Qureshi to know on whose directive he had deposited the money in Aftab's account.
Javed was in constant touch with ISI officials in the neighbouring country, he said.
During their interrogation, names of some more persons cropped up, the official said, adding more arrests are likely.
Aftab, booked under the Official Secrets Act, had allegedly passed on information about Indian Army's movements to officers posted at Pakistan High Commission and also to ISI, the official claimed.
He had allegedly provided information about the army's movements and units in Faizabad, Lucknow and Amritsar, he said.
Aftab is a resident of Khwaspura area of Faizabad, Arun said.
The ATS was continuously getting reports about military information being leaked to intelligence officials in the Pakistani High Commission and ISI and the agency was working on it through electronic surveillance.
The ATS got cracking after Uttar Pradesh Police recently issued a warning of a possible terror attack in the state by ISI-trained terrorists.
"The group, allegedly trained by Pakistan's ISI, has reportedly been asked to target Ayodhya, Varanasi, Vrindavan, and the Taj Mahal in Agra," UP police said.
Acting on intelligence inputs, security was upgraded at several religious places -- including Ayodhya, Kashi and Mathura -- and also at vital installations, including airports, bus and railway stations.
Central intelligence agencies have been sharing inputs with the UP Police since February about increased activity of terrorists in the state.
A Khurasan module was unearthed after Saifullah's death in March. Recently, some self-radicalised youths were also arrested by the UP Anti-Terrorism Squad.
Meanwhile, the family members of Gujarat
native Altaf Qureshi claimed that he is innocent and has been framed as per a government's conspiracy.
Qureshi is a native of Dhoraji town in Rajkot district of Gujarat where his family still lives.
On learning about his arrest, Qureshi's younger brother Munaf told mediapersons at Dhoraji that Altaf is a simple person who can never indulge in such activities.
"This is a conspiracy by the government to frame innocent people like Altaf who belong to a humble background and do not have any backing. If he was connected to the ISI, where are the others working for it? Why only Altaf? How is it possible that only he was working for the ISI," alleged Munaf.
"My brother went to Mumbai few years back to earn money. He was leading a simple life and trying to support the family. It seems the government is intentionally linking him with the ISI. If such claims are true, then efforts must be made to nab all those who are linked with the ISI," he added.
Altaf's mother Zarinabanu too vouched for her son's innocence, saying he can't do anything like what he has been accused of.
"My son is innocent. He can never indulge in such activities. It seems that someone has framed him. He is a very simple person," a teary Zarinabanu told media persons outside their small house in Vohravad area of Dhoraji, on Thursday.
After his arrest Wednesday, the police had said Qureshi had deposited money in the bank account of Aftab Ali in Lucknow for carrying out the espionage.
IMAGE: BJP activists stamp a poster of Pakistan Prime Minister Nawaz Sharif and the country flag during a protest at Bolpur in Birbhum district of West Bengal on Thursday. Photograph: PTI Photo