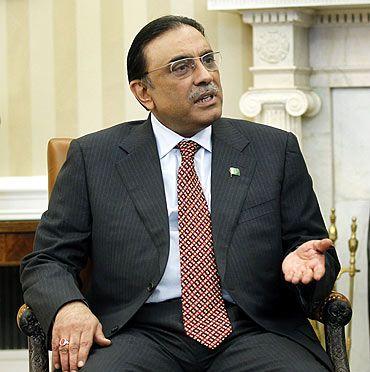 Pakistan appears headed for another political crisis as the ruling Pakistan Peoples Party has decided not to exclude the clause of presidential immunity from a letter to be sent to Swiss government on reopening graft cases against President Asif Ali Zardari despite the supreme court's objection to it.
The apex court Wednesday set October 5 deadline for Law Minister Farooq Naek to finalise the letter to be sent to Swiss authorities to revoke an earlier communication of 2007 that had closed the graft cases against Zardari.
The court reportedly wants the draft letter to make no mention of the president's immunity from criminal proceedings under Article 248 of Pakistan's Constitution.
However, the government has no intention of following this instruction, sources told PTI.
Former premier Yousuf Raza Gilani has hinted that the Pakistan People's Party-led government is not going to remove a reference to the president's immunity from the new draft of the letter to be sent to Swiss authorities.
"I will oppose it if the president's immunity is ignored in the (revised draft of the) letter. The president has immunity under the Constitution. I followed the Constitution and refused to write the letter," said Gilani, who was convicted of contempt and disqualified by the apex court in June for refusing to revive the cases against Zardari.
The supreme court has been pressuring the government to reopen the cases against the President since December 2009, when it struck down a graft amnesty that benefited Zardari and over 8,000 others.
Identifying "presidential immunity" as the basic issue in writing the letter to the Swiss authorities, Gilani said the PPP-led government should not compromise on the president's immunity in the draft letter to be submitted to the apex court on October 5.
"I will support the government in writing the letter if the president's immunity is not compromised," he said.
Information Minister Qamar Zaman Kaira too made it clear the PPP is sticking to its principled position, saying there would be no compromise on the immunity of the president in the revised draft.
The supreme court has made it clear that if the revised draft is not submitted on October 5, contempt proceedings will be initiated against Prime Minister Raja Pervez Ashraf.
"In such a scenario, I think we are heading towards a political crisis and a second prime minister may lose his office if the court does not give the government a middle path (to resolve the problem)," a senior PPP leader, who did not wish to be named, said.
Image: Pakistan President Asif Ali Zardari